Because fast-food employees are paid so little and often don't receive benefits through work (only 13 percent do), they're forced to obtain government assistance that costs American taxpayers a whopping $7 billion a year, according to a new report by UC Berkley's labor center.
And of the 66,000 fast-food workers and their families in North Carolina - fast-food restaurants are among the top employers in the state, by the way - 54 percent must rely on public programs to survive.
"This is the public cost of low-wage jobs in America," said UC Berkeley economist Sylvia Allegretto, co-chairwoan of the Center for Wage and Employment Dynamics in a statement. "The cost is public because taxpayers bear it. Yet it remains hidden in national policy debates about poverty, employment and public spending."
The report found that:
- More than half of families of front-line fast-food workers, who are paid a median of $8.69 an hour, are enrolled in one or more public program, compared to 25 percent of the workforce as a whole.
- Due to low earnings, fast-food workers' families receive an annual average of $1 billion in food stamp benefits and $2 billion in Earned Income Tax Credit payments.
- More than two-thirds of core frontline fast-food workers across the country are over the age of 20, and 68 percent are the main wage-earners in their families. More than a quarter of Americans working in fast-food restaurants are parents, raising at least one child.
"The taxpayer costs we discovered were staggering," said Ken Jacobs, chair of UC Berkeley's Center for Labor Research and Education and coauthor of the report. "People who work in fast-food jobs are paid so little that having to rely on public assistance is the rule, rather than the exception, even for those working 40 hours or more a week."
The pay disparity between many fast-food CEOs and their restaurant employees has doubled in the last 10 years, according to data compiled by Bloomberg. Twenty years ago, McDonald's CEO made about 230 times more than one of the company's full-time employees who made minimum wage. Last year, his successor earned about 580 times more.
Read the full UC Berkley report here.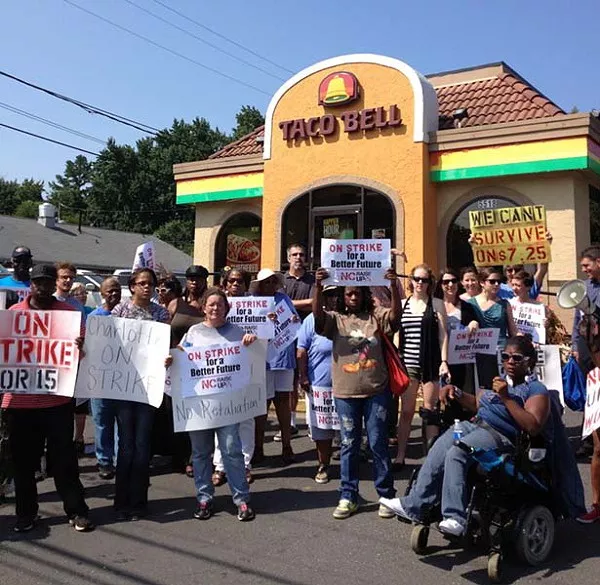 Local fast-food workers and advocates called for livable wages during an August protest.