Editor's note: Districts 1 and 2 are in part one of this series.
A more reliable public transportation system. Local retention of Charlotte Douglas International Airport. A controversial voter-ID bill. On Tuesday, City Council district candidates discussed local and statewide topics at a forum hosted by the Black Political Caucus of Charlotte. The audience provided candidates with the discussion topics and questions, which ranged from the practical (to weed out any duds), such as "name the neighborhoods and streets in your district," to the controversial, such as whether candidates agreed with the voter-ID bill Gov. McCrory recently signed into law. (All candidates passed the geography test and disagreed with the bill.) The caucus will host a similar discussion with at-large and mayoral candidates on Thursday at 6 p.m. and 7:30 p.m., respectively, at the Ramses Temple, 4919 Beatties Ford Road.
Here are some personal facts and campaign platforms the candidates revealed at Tuesday's meeting.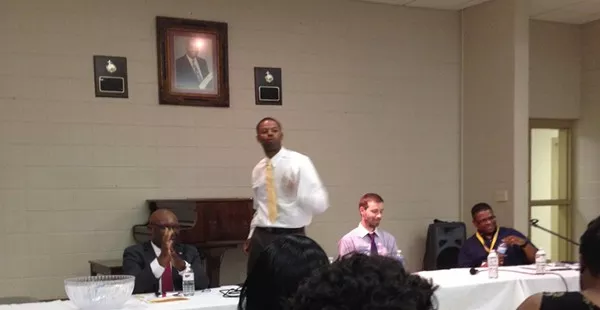 Wil Russell, a Democrat running in District 4, stands to speak.
District 4
Greg Phipps, Democrat
Phipps was appointed to the temporarily vacant District 4 seat for 10 months in 2005. A now-retired large-bank supervisor for the U.S. Treasury Department, Phipps serves on the Charlotte-Mecklenburg Planning Department. He said he'd improve access to public transportation.
Regarding budget cuts to education, Phipps said, "We need to get more involved with schools," including more parent involvement.
Leonard Richardson, Democrat
The 5th grade teacher and father of three emphasized the need for more sidewalks, better public transportation and more beautification efforts in his district.
Memorable quote:
"We don't need our kids to be hit on their way to school," Richardson said, citing a regular problem in his district.
Wil Russell, Democrat
Russell is an assistant project manager for the Charlotte-based Roger Builders Inc., and an Auburn University alumnus. As a councilman, he said he would focus on growing small businesses - implementing programs that would teach owners the intricacies of running a business, including how to fill out complicated tax forms - and help improve the city's public transportation system.
Memorable quote:
A fan of car- and bike-sharing programs, Russell said his district was losing out on unique public transportation options because "we can't think outside of the box."
Levester Flowers, Democrat
The longtime Black Political Caucus volunteer said constituents, not businesses, will fund his "grassroots campaign." He said he'd manage a website that would allow constituents to submit any problems, which he would take to City Council meetings.
Memorable quote:
He said that before any vote was taken at council he'd ask how the legislation would affect his district. "If they can't answer, the vote will be 10-1."
District 5 (Not present: Mitchell Smith-Bey)
John Autry, Democrat
Autry was elected to this seat in 2011 and has since worked with the Black Political Caucus and activists groups, such as Action NC, to improve living conditions in Charlotte's lower-income areas.
Memorable quote:
An audience member brought up comments mayoral candidate Gary Dunn made about the Black Political Caucus, in which Dunn said the group was promoting "racial inequality." Autry replied: "I thought it was a deplorable act and doesn't deserve the time we're spending on it [here]."
District 6 (Not present: Kate Payerle)
Ken Lindholm, Republican
Before moving to Charlotte, Lindholm and his wife lived in D.C., which, he said, makes him sensitive to infrastructure problems (mostly traffic issues). Had he been on City Council at the time, he said he would have built new sidewalks instead of allocating funds to the Knights for a new baseball stadium.
Memorable quote:
Lindholm's favorite quote: "A successful democracy is determined by how the majority treats the minority."
James Peterson, Republican
A Charlotte native, Peterson graduated from UNC Charlotte and later Queens University. He said that he would work to combat the increasing cost of living in Charlotte, which is "pricing people out," and improve safety in neighborhoods.
Memorable quote:
Regarding Dunn's comments: "We have stupid people making stupid comments. I don't think someone like that should be running for office."
District 7 (Not present: Duncan Wilson and Bakar Burton)
Jay Privette, Republican
The N.C. State alumnus served in the military and now lives in Ballantyne. Privette said the problems in his district are that it is shrinking and that many high-income earners are moving out, being replaced by low-income earners.
Memorable quote:
"You cannot judge someone based on their education level or ethnicity."
Ed Driggs, Republican
A self-proclaimed "conservative Republican," Driggs said he believes a small government is the best way to create jobs. He also acknowledged that he didn't agree with much of the legislation that moved through the General Assembly this past session.
Memorable quote:
Driggs said that as a Republican he probably wouldn't agree with many of the opinions in the room, "but I'm going to listen to you."