The fourth iteration of Charlotte's wildly successful show Let the Good Times Roll (Side note: It picked up a Reader's Choice Award in Creative Loafing's Best Of Charlotte 2012) continues to bring together skateboarding and art enthusiasts.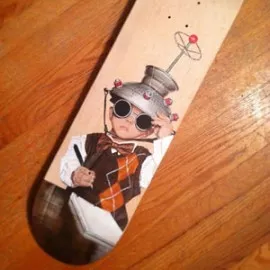 The exhibit, which opens today at Twenty-Two, features the work of established artists alongside skateboarders, car detailers, bartenders and graffiti and tattoo artists. This amalgamation creates a hard-to-categorize but easy-to-enjoy show whose every component has a back story.
This year, Let the Good Times Roll includes 152 boards by nearly 100 artists. The boards line the walls in undulating patterns, allowing for vertical and horizontal orientation - and keeping the show from looking too neat.

Participating artists purchased skate decks from BlackSheep Skate Shop and then began making manipulations and transfigurations. In terms of design, they were given no boundaries; while most are painted as is, some participants ventured into the third dimension, adding ornament or working in relief.
Standouts include Taylor McClure's "Suck My Death," a beautiful carving colored with black and red ink and Eric Boyd of Reaching Quiet Design's "Useless Commodity Item" - he took a minimal approach, casting an exact replica of a board in concrete.

Gallery owner Rodney Raines' "La Fée Verte" depicts a sexualized green fairy floating on a board surrounded by spiky silver absinthe spoons, lending a thorny effect.

The exacting lines and impeccable finish of "Candy" give away the day job - car detailing - of its creator who goes by the name of Pork Chop.

Alexandra Loesser, a skilled oil painter who recently showed at Twenty-Two, uses her usual ironic softness in "Summer Bear."

According to BlackSheep's website, this show is "dedicated to raising awareness for the need of legal, noninvasive places to skateboard in Charlotte."
Nick Bloomberg, curator at Twenty-Two, believes the greatest and most immediate benefit of the show is its ability to bring together creative personalities from all backgrounds. An emphasis on this kind of unity is sure to continue cultivating growth in Charlotte.
Opening reception for Let the Good Times Roll is Aug. 2, from 7 p.m. to 2 a.m. After-party at Snug Harbor. Exhibit continues through Sept. 1. Twenty-Two, 1500 Central Ave. 704-344-0122. www.gallerytwentytwo.com.