Occasionally, after all the ovations subside and all the performers have fully feasted on their accolades, a cast will be done with bowing and applaud their audience. Well, last Saturday night, the cast of Shakespeare Carolina's new outdoor production of A Comedy of Errors outdid all such tepid afterthoughts that I can remember. En masse, they rushed forward on the Winthrop Amphitheatre stage and, leaning over the lip, gave us a sincere show of appreciation that felt like a standing O.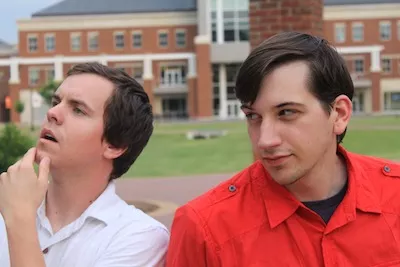 We came pretty close to earning it. Rains came before showtime, wetting the grass, the stage, and the audience while playing havoc with the electronics. Artistic director Chris O'Neill addressed the crowd, letting us know that the show would be done without lights or mikes, a situation that could get pretty touchy after intermission when darkness fell. Other than that, all the company could offer were a couple of blankets to keep our tushes dry and the promise to shop for flashlights nearby so the later acts of the comedy could be seen.
What I witnessed - frequently under an umbrella - was hardly what stage director S. Wilson Lee, lighting designer O'Neill, or sound designer Jill O'Neill collaborated on during rehearsals. Actors were suddenly not relying on microphones to project into the great outdoors, makeshift footlights were deployed during intermission, and stage manager Sara Sopko split her time portraying a police officer and shining the best flashlight available on whoever else was speaking.
While the Montford Players have been performing Shakespeare at an outdoor amphitheater up in Asheville for many years, this is the first time ShakesCar has utilized the Winthrop Amphitheatre. It may well be the first time any amphitheater has been used for a theatre piece in Charlotte. Lee not only uses the stage beautifully, keeping the action artfully spread and occasionally bringing his players out among the audience, he taps very effectively into the old-timey ambiance of the venue.
Comedy of Errors, after all, is an extended sketch about two sets of identical twins - two masters and two servants with identical names - who converge in Ephesus, the city of their birth, after 25 years of separation, neither pair aware of the existence of the other. The arrival of Antipholus and Dromio from Syracuse, pursued by their Syracusan father Aegeon, heaps confusion upon confusion for the brothers and the Ephesians, whose census figures are obviously not up-to-date.
Keeping people scattered is obviously Shakespeare's strategy, but there is always that nagging necessity of casting two sets of identical twins. Lee attacks this difficulty by taking us back to the days of Greek and Roman comedy, when plays were always performed in amphitheaters, and revives the custom of actors performing with masks. Two nicely matched pairs of masks designed by James Cartee help us leap the chasm of disbelief not only when we see these "identical" twins but also when we see so many people onstage so repeatedly mistaking their identities.
With David Hensley stooping over as Antipholus of Ephesus in an effort to match the height of the interloping Antipholus, Nathan Kelly Rouse, we gradually come to accept the masks as the people, much as we do in Avenue Q. Lee pushes the conceit even further with the comical servant class, matching Ted Patterson as the homegrown Dromio of Ephesus with Megan York as his identical twin.

All four of these protagonists were quite fine behind their masks, even unmiked. Even with some confounded University boiler or generator booming 50 yards away at stage right. Even with the skies unloading. And their excellence was matched by Heather Bucsh as Adriana, Antipholous of Ephesus' wife, fuming over her husband's fancied neglect and assorted infidelities; and Kate Bearden as her sister Adriana, only slightly more scandalized by Antipholous of Syracuse's advances than she is charmed.
Lee also attacks the difficulty of steering some very long monologues away from tedium. Once again, a potential weakness is turned into a strength with some of Lee's best handiwork. He sends Harold Skinner onstage in short-shorts to open the comedy as Solinus, the Duke of Ephesus, pedaling a broken-down bicycle.
Dismounting and setting the kickstand, our Duke sets about acquainting himself with the sob story of Aegeon, delivered by none other than Emmanuel Barbe in his inimitable broken English. What could seem longer than the 25 years Aegeon narrates turns out to be unexpectedly amusing, thanks to all the business Lee gives Skinner as he listens and all the quirky resting places provided for Barbe during his narrative, much of which is actually intelligible and lucid. It's probably the best work either one of them has ever done. The whole production - what I can vouch for, anyway - is among ShakesCar's best as well.