When I walk into an executive office on the fourth floor of Belk at South Park Mall, I am introduced to Carolina Panthers quarterback Cam Newton. In the midst of an onslaught of press interviews, Newton appears ready to get on with his afternoon appearance, weary from answering the same questions over and over.
He gives me a quick handshake - his behemoth hand engulfing mine - and sits. There's only one way I can start our five-minute chat.
"First, as an Auburn alum, let me say, 'War Eagle!'" A smile cracks as he yells, "War Eagle!!!" and reaches out for a second, much heartier handshake. As the quarterback who led the 2010 Auburn University football team to its first national championship since 1957, Newton has quite a home in the hearts of fans. And because he recently went back to the school to finish his degree in sociology, he's also earned more respect.
But I'm not there to talk about Auburn, I am chatting with Newton about his new clothing line with Belk, Made. It's no surprise - Newton's not making or designing the clothes himself, he's simply attaching his name to a line he approves of in order to help his (and Belk's) brand and business.
"In the great words of Jay-Z, 'I'm a business, man,'" Newton says. The line includes everything from shorts and shoes to suits and T-shirts.
I have to ask if there were any plans to make a tear-away T-shirt - one that would make it easier for him to unleash his Superman touchdown pose.
He smiles as I ask the question. "Yeah, if you want to go buy a button-down shirt and tear it right on up ... but you can't bring it back," he says with a laugh. "You're gonna have to buy another one."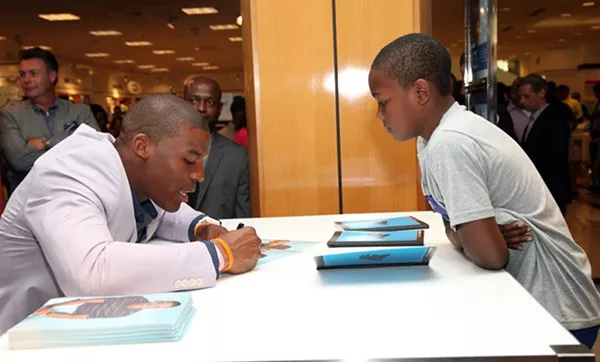 Roughly 30 minutes later, Newton is in the heart of the men's department for a two-hour meet-and-greet - signing autographs, mugging for photos, and sincerely enjoying his time with fans, some of whom have been waiting for more than five hours to meet him. He finds a moment to rescue a child's balloon as it floats to the ceiling, he holds up small babies, he jokes around at every chance he gets. He tells one crying youngster, "Man, I'm not
that
ugly, am I?!?"
A current Auburn student gets her signed photo and offers one of many "War Eagles!" of the day. Newton inquires about her major before playfully asking, "Why didn't you ever say 'hi' when you saw me on campus last semester?"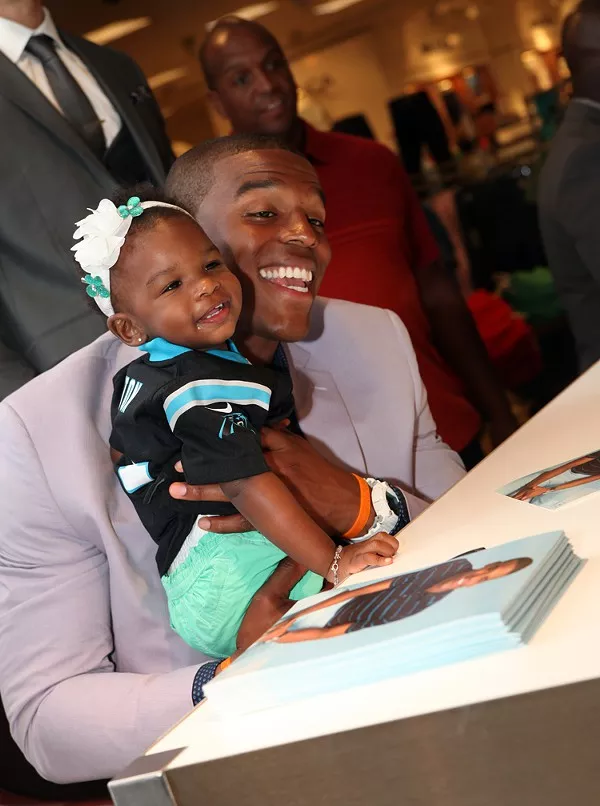 He leads the crowd in singing "Happy Birthday" to another young fan, while also taking moments to talk to kids about their plans for the afternoon, posing for pictures and making faces for some. Plenty of fans ask him to win the Super Bowl or bring back the MVP trophy next season. Newton always smiles and says, "We'll try."
Through all of this, there are no doubt detractors (Alabama fans, I'd bet) who say Newton's focus should solely be on the field - not on a clothing line. But he is undoubtedly a brand, an attraction that intrigues young and old, male and female. So why not monopolize on it?
"The opportunity to work with Belk was too good to be true," Newton says. "I'm a football player. I know that. I'm not trying to be something I'm not."