The protest movement in Charlotte has been relatively calm since the very active summer of 2012, which saw activists coming from all over the country in the lead-up to the Democratic National Convention. In the past two weeks, however, some have rallied again to voice their opposition to the policies of a few Charlotte-based corporations.
After a humble but fierce showing at last week's Duke Energy shareholder meeting, activists are hoping to gather in the hundreds to march in front of Bank of America's shareholder meeting on Wednesday. An activist group calling itself the 99% Spring is planning the rally through a Facebook event page, which 180 people signed as of Tuesday afternoon.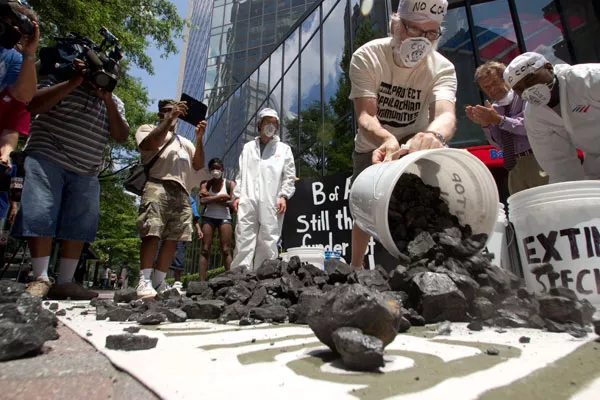 Last year, activists dumped 500 pounds of coal in front of Bank Of America's headquarters during a street theatre protest.
Marchers will gather near the intersection of Tryon and Trade streets at 8:30 a.m. Wednesday and march the block to Bank of America's headquarters.
The Rainforest Action Network and members of other activist groups and local churches held a press conference in front of BofA on Tuesday morning to speak out on climate issues they say the bank perpetuates. Speakers stood before a 22-foot-long billboard attached to a truck that read "We Don't Care About the Climate" with pictures of Bank of America's logo.
They mainly spoke out against Bank of America's large and continued investments in the coal industry, despite the negative health and climate impacts of coal's mining, transport and use. This has been an ongoing dispute between the bank and activist groups. In June 2012, protesters dumped 500 pounds of coal on Bank of America's doorstep in a cloudy exhibit of what coal does to the air around it.
Bank of America has made promises to curb its investment in the industry and focus more on clean energy. Although the bank's financing of the coal industry declined slightly last year, it remains the top financier of companies that operate coal power plants and mine for it using the environmentally destructive process of mountaintop removal.
"We have had a dialogue going with Bank of America [since the June protest last year], and they say the right things," said Amanda Starbuck of the Rainforest Action Network. "But we want to see some action taken. They aren't moving in the right direction."
A resolution will be placed before shareholders inside Wednesday's meeting that will address the company's leading role in financing coal and other policies that affect the climate. The resolution will ask Bank of America to measure its "financed emissions," or its investment in companies that emit greenhouse gases, with the help of accounting tools developed by the Greenhouse Gas Protocol.
The bank has made preliminary commitments to work with the financed emissions tools, which could hold it more accountable for its spending.