With apologies to all, one of my patented Killer Headaches ™ - the ones that have plagued me since I was a mere lad of 14 - prevented me from seeing my chosen afternoon screening on the final day of the 15th Annual RiverRun International Film Festival in Winston-Salem: Smiling Through the Apocalypse: Esquire in the Sixties, a documentary about NC native Harold Hayes and how he turned Esquire Magazine into a different type of literary publication by tapping the skills of such New Journalism writers as Tom Wolfe, Nora Ephron and Norman Mailer. Fortunately, two Relpax pills in my system allowed me to recuperate enough to catch the closing night event, consisting of the announcement of the various award winners followed by a screening.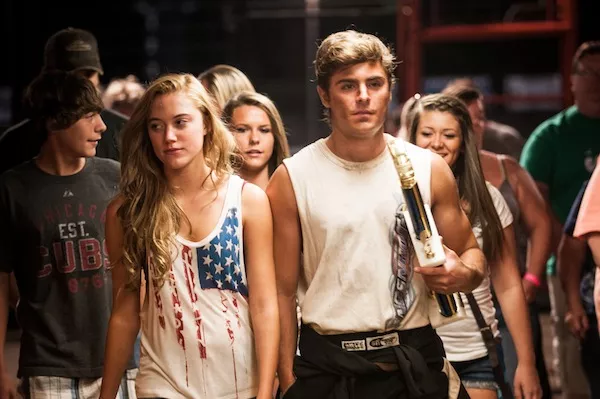 Maika Monroe and Zac Efron in At Any Price
AT ANY PRICE - Writer-director Ramin Bahrani is a RiverRun favorite, and no wonder: A Winston-Salem native, he's made a series of award-winning indie flicks, two of which were screened at past RiverRun fests and one of which was filmed right here in Bahrani's hometown. (That last-named would be the wonderful Goodbye Solo, which played Charlotte in May of 2009; see CL's review here.) Unlike his past efforts, At Any Price finds the filmmaker working with a name cast and a larger budget, but it's hardly an example of an indie talent going Hollywood - after all, it's not like he's directing a Transformers sequel or a superhero flick. Yet elements of sloppy scriptwriting - the types of dramatic shortcuts we often associate with multiplex fillers - do make their way into the picture, and they serve to weaken a work that otherwise can feel as earthy as its Iowa farmland setting. In his finest performance in over a decade, Dennis Quaid plays Henry Whipple, a farmer who's doing whatever it takes to hold onto the land that's been in his family for generations. With his father (Goodbye Solo co-star Red West) constantly accusing him of destroying the legacy that was left to him, Henry hopes that one of his own sons will agree to take over the agriculture business. With the oldest boy off climbing mountains in Argentina, the duty falls on Dean (Zac Efron), but he clearly isn't interested in helping out a father he detests; besides, he'd rather be making out with his girlfriend Cadence (Maika Monroe) and racing cars in hopes of working his way up to a lucrative NASCAR career. Henry's problems don't end with his son: His wife Irene (Kim Dickens) knows he's having an affair with the local floozy (Heather Graham), he's being crushed in the region by a fellow seed salesman (the always-welcome Clancy Brown), and a potentially illegal action regarding his seed distribution results in a pair of company agents sniffing around. With his potent performance, Quaid manages to earn audience sympathy for his often unlikable character, never more than in a scene in which he tries to explain to his dad the differences between the farming business now and decades ago. Efron gives his role his best shot, but the actor's a little too soft around the edges for this part - a kid like the one who played Neckbone (Jacob Lofland) in Mud would have been much more believable - and the result is that Dean comes off less as an understandably angry rebel than as a petulant brat who needs to be put into time-out. But the problems with Dean are created by Bahrani as much as by Efron: While the situations surrounding Quaid's Henry Whipple remain interesting - his scenes with Brown and with Monroe are among the film's best - the plot points focusing on Dean veer drastically off course, starting with the ludicrous reason he balks on his racing career and ending with a third-act twist that feels more like a screenwriter's last-second Hail Mary pass than a natural progression of events. With Bahrani's assured direction squaring off against his ragged script, this proves to be a mixed bag of a movie, worth seeing for reduced admission but not necessarily at any price.
Below is the complete list of winners. For film descriptions, go to the RiverRun site here.
Cohen Media Group
In the House
NARRATIVE FEATURE
BEST NARRATIVE FEATURE
In the House, directed by François Ozon
PETER BRUNETTE AWARD FOR BEST DIRECTOR
William Vega, La Sirga
BEST ACTOR
Aniello Arena, Reality
BEST ACTRESS
Suzanne Clement, Laurence Anyways
BEST CINEMATOGRAPHY
Sofia Oggioni, La Sirga
BEST SCREENPLAY
François Ozon, In the House
SPECIAL JURY PRIZE
Tey, directed by Alain Gomis
DOCUMENTARY FEATURE
BEST DOCUMENTARY FEATURE
I Am Breathing, directed by Emma Davie and Morag McKinnon
BEST DIRECTOR
Ilian Metev, Sofia's Last Ambulance
Migrant Films
A River Changes Course
HUMAN RIGHTS AWARD
A River Changes Course, directed by Kalyanee Mam
BEST CINEMATOGRAPHY
Sebastian Hofmann, Pedro Gonzalez Rubio and Fernanda Romandia, Canicula
SPECIAL JURY PRIZE
Twenty Feet from Stardom, directed by Morgan Neville
NARRATIVE SHORT
BEST NARRATIVE SHORT
Trois Secondes et Demie, directed by Edouard Beaucamp
DOCUMENTARY SHORT
BEST DOCUMENTARY SHORT
Slomo, directed by Joshua Izenberg
SPECIAL JURY PRIZE
Unravel, directed by Meghna Gupta
ANIMATED SHORT
BEST ANIMATED SHORT
Second Hand, directed by Isaac King
STUDENT SHORT
BEST STUDENT NARRATIVE SHORT
Trois Secondes et Demie, directed by Edouard Beaucamp
BEST STUDENT DOCUMENTARY SHORT
The Words in the Margins, directed by Sara Mott
BEST STUDENT ANIMATED SHORT
Head Over Heels, directed by Timothy Reckart
Ketchup Entertainment
Picture Day
AUDIENCE AWARDS
KILPATRICK TOWNSEND & STOCKTON LLP AWARD FOR BEST NARRATIVE FEATURE
Picture Day, directed by Kate Melville
KILPATRICK TOWNSEND & STOCKTON LLP AWARD FOR BEST DOCUMENTARY FEATURE
Rising from Ashes, directed by T.C. Johnstone
ALTERED STATES AWARD FOR BEST AMERICAN INDIE
Remote Area Medical, directed by Jeff Reichert and Farihah Zaman