When playwright Christopher Durang tells you the sky is falling, you better believe it. His latest satire, Miss Witherspoon, might have been titled "Steven Spielberg Meets the Afterlife" if he had chosen a better-known protagonist. But Durang has chosen Witherspoon, actually a very-depressed Veronica in a previous life, and she has the colossal task of reincarnating until she gets things right. Toss in Rex Harrison, Arianna Huffington, and a band of Tibetan terrorists - don't forget that prophetic chicken! - and you have some idea of the craziness Miss Witherspoon (runner-up for the Pulitzer Prize) embraces during multiple takes on living.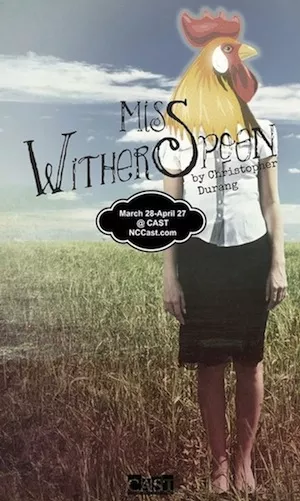 Beware of possible roaming chickens and pieces of Skylab in the lobby as you arrive for the show at the experimental quarters of Carolina Actors Studio Theatre.
$18-$28. March 29-30, 8 p.m. Continues Thursday-Saturday through April 27. Carolina Actors Studio Theatre, 2424 N. Davidson St.704-455-8542. www.nccast.com
.