It's a bird, it's a plane ... wait, no, it's Peter Pan! North Carolina Dance Theatre follows up its Innovative Works, an annual performance comprised of a series of short choreographies, with the soaring ballet - complete with two track systems and two pendulums for full flying effects - that sinks its hooks in familiarity. Jean-Pierre Bonnefoux revisits his production of the classic tale, first premiered by NC Dance Theatre in 2004, with a tweaking of the Neverland set and a revamping of costumes, this time designed by New York-based Christina Giannini.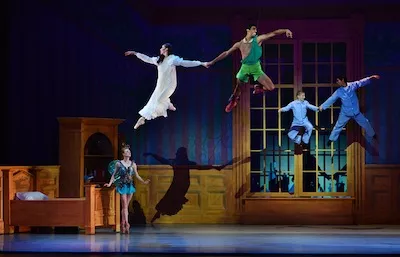 Peter Pan's sidekicks, the Lost Boys, get "steampunk style" makeovers, too. The two-act ballet features a cast of more than 50 dancers, including Frederick Leo Walker II and Jordan Leeper, who will rotate the role of the boy who refuses to grow up. Fairy dust has been sprinkled on Jamie Dee and Emily Ramirez, who share the role of the loyal (and pesky) Tinker Bell, while Addul Manzano has mastery over the plank in the role of the infamous Captain Hook.
$39 and up. March 8, 7:30 p.m., March 9, 2 p.m. & 7 p.m., March 10, 2 p.m., March 15, 7:30 p.m., March 16, 2 p.m. & 7 p.m. and March 17, 2 p.m. Knight Theater, 430 S. Tryon St. 704-372-1000. www.blumenthalarts.org
.