Listed below is a roundup of CL's top picks for comedy shows in Charlotte this week. Hopefully, they keep you entertained and, more importantly, laughing out loud.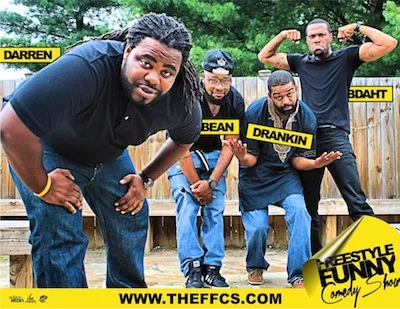 Based out of Greensboro, the
Freestyle Funny Comedy Show
is a fusion of stand-up, sketch and improv. The four-man troupe - comprised of Anthony "Chico" Bean, Darren Brand, G. DeMar "OsamaBinDrankin" Rankin, Sr. and host B Daht - stops in Charlotte for a special performance at The Comedy Zone on Friday during CIAA weekend. For more information, visit
www.theffcs.com
.
$20-$30. Fri., March 1, 6 p.m. & 8:30 p.m. The Comedy Zone Charlotte at N.C. Music Factory, 900 N.C. Music Factory Blvd., Suite B3. 980-321-4702. www.cltcomedyzone.com
.

Starring in popular films like
Next Friday
and
The Hangover
,
Mike Epps
has earned a name for himself in the movie world. But it's his ability to bring humor to the masses that's made him a success both on and off the screen. Just be prepared for some inappropriate behavior during his stand up act at Bojangles Coliseum.
$45 and up. Sat., March 2, 8 p.m. to 10 p.m. Bojangles Coliseum, 2700 E. Independence Blvd. 704-335-3100. www.bojanglescoliseum.com
.
Ever find yourself asking "What would
Bill Maher
do?" If not, you might want to duck out here. Maher's latest satirical shenanigans poke fun at Catholics and Pope Benedict XVI by offering suggestions as to who he thinks should replace the former religious leader. Who would he pick? He doesn't really care, but he jokes that Hillary Clinton is an ideal candidate. Of course, as crazy as the idea seems, Maher makes a decent point to explain his reasoning: "The fact is, that any enterprise that excludes women almost always descends into sexual deviancy," he says. If she's not available, he thinks other possible contenders should include Oprah or, *gasp* ... himself. Maher brings his political commentary and stand up to Belk Theater for a one-night-only performance.
$39.50 and up. Sun., March 3, 7 p.m. Belk Theater, 130 N. Tryon St. 704-372-1000. www.blumenthalarts.org
.