Since there isn't a dramatic adaptation worthy of Mark Twain's Adventures of Huckleberry Finn, you'll want to jump aboard every time Roger Miller's musical adaptation rolls into town. Huck's raft first came to Charlotte in 1991 at Theatre Charlotte before docking at CPCC Summer Theatre - the best version seen here- six years later. Once again, Tom Hollis is in charge of the current production at CPCC, although he doesn't have quite the professional acting and singing talent at his disposal this time around. Still, the facilities at Halton Theater and a more robust instrumental team go a long way in closing the gap.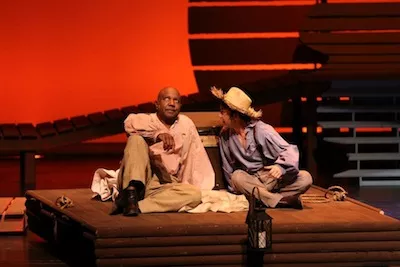 James Duke must have asked himself why his set designs are always exactly what we expect, because the big, somewhat oriental rising sun we find centerstage when we enter surely isn't. Nor are the three musicians on fiddle, guitar, and harmonica who frequently inhabit the right corner of the stage, augmented by a fine orchestra in the pit conducted by keyboardist Ellen Robison.
If you're only familiar with Roger Miller via his mammoth "King of the Road" hit single, the score of Big River will be a revelation. There are more than a couple of tunes and shuffles bearing the signature of Miller's homespun comedy and wit, but there are also frequent elements of gospel in the score and a couple of attempts to reach the heights of "Ole Man River." Each time I see Big River, I become more impressed with how beautifully the William Hauptman book has distilled the characters and the essence of Twain's masterwork.
And can that really be Kevin Harris playing Jim for the third time in 23 years? It sure is. He sings more richly each time he does the role and more thoroughly personifies the story and the river more than ever. His heartbreak after floating past Cairo in the fog is so poignant now. Of course, part of the reason Harris is so distinguished here is by default. Jordan Ellis, though past college age, is youngish and newish as Huck, but part of the newishness would seem to include a lack of diligence following Hollis' direction.
Ellis is actually quite charming and appealing as Huck from start to finish. But when he sings any of Huck's songs - and there are nine of them, including duets and quartets - Ellis seems to exit Huck's body and age 12 years. Out of nowhere comes this smooth admirable Broadway belt voice that forsakes the rustic flavor of our hero and wraps itself in its own beauty. It seems to strives to compete with Harris for vocal supremacy. It became jarring for me, like watching two different performances.
More than a couple of gems are to be found in the supporting performances. Geof Knight as The Duke and Roger Watson as The King supply a raft-load of unscrupulous fun, and Brian Holloway is quite impressive in three roles, Pap Finn, a Southern sheriff, and Mark Twain. The skirts are fine even if only two or three are prominent. Carol Weiner is as starchy as the Norman Rockwell portrait as Miss Watson and Anne Lambert is a fine Widow Douglas before she is tele-transported downriver to become the genial Sally Phelps.
Fans of Matt Kenyon will no doubt feel that even his three roles, including Judge Thatcher and Silas Phelps, are too little employment. There's also the riddle of Matt Walters as the Young Fool. Is the role a family heirloom? Matt's rendition of "Arkansas" isn't quite the equal of the previous two I've seen here, both sung by Wendell Walters. But it's very close, and I'd swear he doing the same dopey choreography.
$10-$18. Feb. 22-23, 8 p.m.; Feb. 24, 2:30 p.m. CPCC's Halton Theater, 1201 Elizabeth Ave. 704-330-6534. http://tix.cpcc.edu.