The folks at CAST pack power in their punches. At least, that's what we've concluded after years of being hit with entertaining productions of all sorts. The latest, The Elaborate Entrance of Chad Deity, earns high marks for transforming its quarters into a wrestling arena. Written by playwright Kristoffer Diaz, the satirical play is a Pulitzer Prize finalist about three fighters: Chad Deity, a charismatic champion; Mace, a professional whose spotlight gets stolen every time he's slammed by Deity; and Vigneshwar Paduar, an athlete Mace brings in with hopes of overthrowing Deity.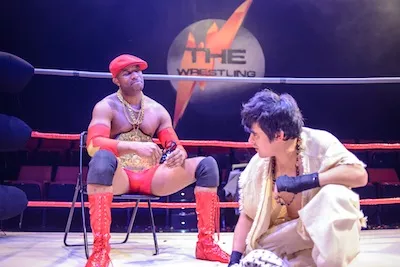 Unfortunately, it's not that easy for Mace, who must win the support of the wrestling company owner by creating an elaborate and derogatory story about he and the newbie being "terrorists." The spectacle isn't for the faint of heart, as undercurrents of race, class and power give the smackdown even more of a sting. Ringside seats include close access to body slams, sweat and swearing. May the best man win!
$18-$28. Feb. 22-23, 8 p.m.; Feb. 28, 8 p.m.; March 1-2, 8 p.m.; March 7-9, 8 p.m.; March 14-16, 8 p.m.; March 21-23, 8 p.m. Carolina Actors Studio Theatre, 2424 N. Davidson St. 704-455-8542. www.nccast.com
.