Charlotte's unique all-female experiment in Bard and brew, ChicksBeer, is back for round two at NoDa Brewing Company. The opening around last September, where they presented a sliced-and-diced Hamlet, was itself a welcome revival. Sheila Proctor, a mainstay of the original Chickspeare troupe, which performed in sundry locations around town beginning in the '90s - including the old Johnson Brewery on Central Avenue - brought a reconstituted ensemble back to see how the idea would fly - with fresh suds ... ahem, craft beer.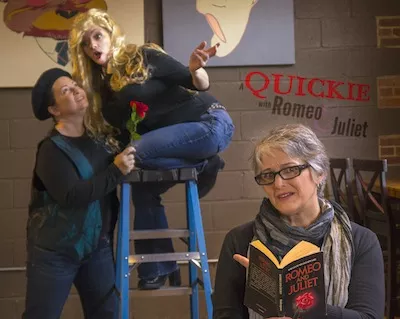 The Prince of Denmark agonized, soliloquized, and died - forwards, fast forwards, and in reverse, with a few fresh wrinkles on the deathless Reduced Shakespeare comedy formula. 'Twas good enough to encourage Proctor and her accomplices to do the comedy capsule of Romeo and Juliet that begins its NoDa run this Sunday.
Now Proctor has played numerous Shakespearean heroes over the years, so her performances have exemplified both of Chickspeare's primary urges: to make Shakespeare fun for modern audiences and to give women a crack at the juiciest roles. Historically, this is fair retribution, for in the Elizabethan Era, men played all the roles in the Bard's plays. In full-length Chickspeare productions, Proctor has done Macbeth, Hotspur in Henry IV, and Duke Orsino in Twelfth Night. But when the Chix go into Quickspeare mode, emulating the Reduced abridgements, she has been Puck, Laertes, and Romeo.
"In the full productions," Proctor says, "I successfully portrayed strong, flawed men who garnered power/respect from others. So I guess you could say that I enjoy moving through Shakespeare's work, approaching these characters as any male actor would... that my being a female doesn't matter... although, I must admit, the fight scenes are my favorite!"
With just three women performing this quickie-style Romeo and Juliet, even Lane Morris gets to swash some buckle as Benvolio and Tybalt between stints as the youthful and virginal Juliet ("wink, wink"). Morris vividly remembers numerous R&Js that the Chix staged more than 10 years ago, including at Proctor's wedding.
"This quickie is special because of the close collaboration and unique energy," Morris asserts. "During our first rehearsal, it was evident that not much has changed. Character choices have changed a bit and clearly we are all more... um... seasoned, but the energy of it is the same high-spirited, rousing good time as it was ten years ago - if not more so."
While NoDa brewing is not averse to solid food (provided by The Tin Kitchen), Proctor promises that ChicksBeer presentations will always be light and frothy. A three-day Shakespeare show in the parking lot is also brewing, in celebration of Bard's birthday in April. Wait till next year if you have a hankering for full-length Chickspeare fare. Meanwhile, sword and stein in hand, Proctor takes arms against a sea of thinking that Shakespeare is stuffy and boring.
"This is why this type of pairing has been so popular for The Chicks, even a decade later," Proctor observes. "It always catches people off guard. They laugh, have a relaxing good time, and realize how much they enjoyed Shakespeare."
For more information, visit www.chickspeare.com. $10 for the show only; $20 for the show and food. Feb. 10, 7 p.m.; Feb. 11, 7:30 p.m. and Feb. 12, 7:30 p.m. NoDa Brewing Company, 2229 N Davidson St . 704-451-1394. www.nodabrewing.com.