As majestic as we've seen her since she reigned in Antony and Cleopatra, a haughty and scornful Iesha Nyree is queen of the netherworld in Steve Yockey's Very Still and Hard to See. This creepy little spookfest is haunting the 11 o'clock hour at Carolina Actors Studio Theatre for one more weekend, apparently lifting the ban on macabre saturnalia that had been maintained by that wicked company outside the months of October and November.
The female Mephisto, Obake, and her ghoulish retinue of worshipers greet celebrated architect Buck Mason in her darksome lair, where she grants the tycoon a single wish - we only know it's a perverted wish when we reach the denouement - in exchange for moving his newest hotel just a smidge so that it will center on whatever evil radiations emanate from her realm. Until the climax, we see examples of her handiwork as Obake's corrosive influence seeps upwards into various lodgers at the hotel, plus its resident gargoyle, the elevator operator.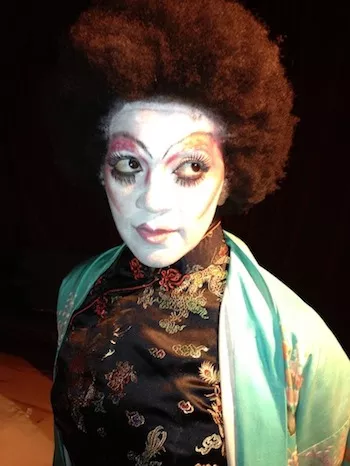 Except for Buck, the scales of justice are fiendishly flouted in this devilish brew. One person after another is haunted and punished far beyond their deserts. It's a grim world, akin to Robert Louis Stevenson's lesser-known wallows in horror, and a very satisfying journey for those who crave self-flagellation and the sunny world view of Nathaniel Hawthorne. Having fallen under their spell decades ago, I only regret that we have too few above-ground visitations from Nyree (and her cool witch-doctor makeup) along the way.
Sean Kimbro nicely maintains the simmering spell as he directs a cast of mostly newcomers. Bringing an ungainly charm to Buck, George Bohnfalk isn't the best in cast, but he's a worthy victim. Better are Chris Herring in multiple roles, including the twisted elevator operator, and Joshua Ozro Lucero, first as a peacemaking husband and then as a human canary. It gets weird. Murphy Mason makes a devastating debut as the predatory Ginger.
The Ginger episode and one or two others have a tenuous relationship to the central Obake-Buck-hotel axis, but I happen to like it that way. Contradictions, caprices, and illogic are in the DNA of the best Gothic horror, from Dracula on down. At the final fadeout, you just might imagine an infernal cackle celebrating all this universal disorder.