Blending music, dance and art into experimental, concept-driven performances, the Triptych Collective's goal is to present critical statements by engaging audiences in a nontraditional way. Past showcases - including Dancing on the Dark Side, a ballet set to Pink Floyd's iconic Dark Side of the Moon, and Telepresence, a mixed-media show examining the effect of technology on relationships and day-to-day life - were powerful efforts. This time around, the group is digging even deeper for socially engaging material.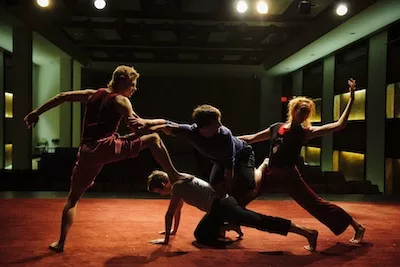 Sown with the Body
, Triptych's newest project debuting at Hart Witzen, explores the relationship among food, identity and community. Last summer, members of the collective volunteered at community organizations Friendship Trays (providing meals to the elderly, handicapped and disabled) and Friendship Gardens (cultivating the gardens where vegetables are grown for Friendship Trays). Inspired by the hands-on experiences, they've created five performance pieces. (Also on the menu: light bites and drink samples from Free Range Brewing, Lenny Boy Kombucha, Common Market, Tres Amigos and Peculiar Rabbit). For more information, visit
www.triptychcollective.com
.
$10-$12. Dec. 7, 8 p.m. Hart-Witzen Gallery, 136 E. 36th St. 704-334-1177. www.hartwitzengallery.com
.