Former Creative Loafing photographer Catalina Kulczar and her husband, Juan Miguel Marin, formerly of the Charlotte rock en español band La Rúa, are part of a team whose work on ex-Talking Heads singer David Byrne's 2012 album Love This Giant, with Portland singer/songwriter St. Vincent, was nominated for a Grammy.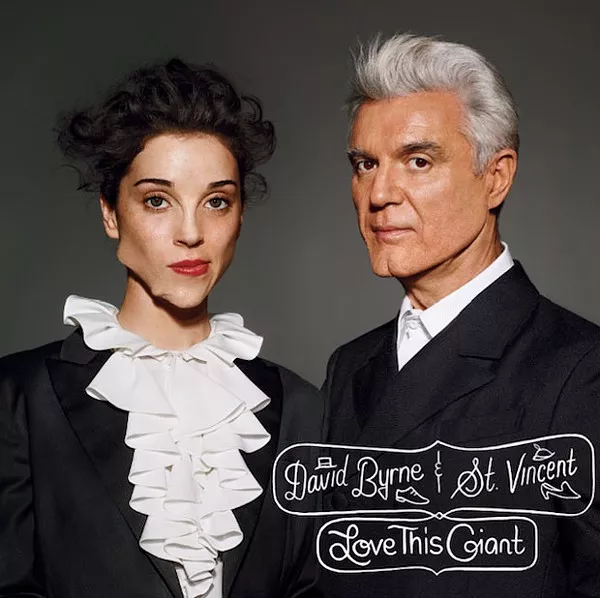 Cover by Richard Burbridge
Kulczar and Marin met Byrne while working on their recent documentary about the Venezuelan band Los Amigos Invisibles, La Casa Del Ritmo. Byrne had released Los Amigos' first three U.S. albums, including the band's 1998 debut The New Sound of the Venezuelan Gozadera, on his Luaka Bop label. After that project, the couple continued their creative relationship with Byrne, with Kulczar shooting portraits of the artist and Marin doing art direction for the shoots. When Byrne traveled to Latin America to promote his book, Bicycle Diaries, Marin designed the posters.
"After that project, we kind of became part of their creative network," says Marin. "So, when they bumped into an album-art deadline issue with Love This Giant, they called us in to help out."
It was a last-minute project, Marin says. Apparently, Byrne and St. Vincent (whose given name is Annie Erin Clark) were not happy with some interior artwork that had already been done. "We just showed up and we were free to experiment and come up with something," Marin says. "An artist [Gabe Bartalos] had already created some prosthetics, and we had that to play with, so we brought in a projector, experimented and ended up creating the image that made it into the album. Around noon that day, David and Annie came by to check out what we were doing and they liked it."
The other artists on the team that created the packaging art for Love This Giant include Lee Ann Rossi and the project's art director, Noah Wall. The 55th Grammy Awards will take place at the Staples Center in Los Angeles on Feb. 10, 2013. To see more of Kulczar's photography, go to her web site. Marin's design work can be found at his web site.