We are not guinea pigs! Yes, we are! Slated to hit Broadway in April 2013, the revival of Frank Wildhorn's Jekyll & Hyde the Musical is barreling into Belk Theater for eight performances — a mere five weeks after the new production began its 25-city national tour in San Diego. Charlotte is the fourth city to see how Tony Award nominee Constantine Maroulis fares in the schizoid title role and how R&B diva and Grammy nominee Deborah Cox fares as sweet streetwalker Lucy Harris.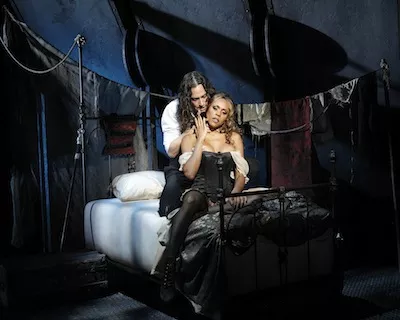 Yes, Frank Wildhorn's version has far more romance happening than the original Robert Louis Stevenson novella, thanks to the book and lyrics by four-time Tony nominee Leslie Bricusse. Those disfigurements certainly helped the original Broadway version, which opened in 1997 and logged 1,543 performances. Aside from the head-snapping climax, highlights include "This Is the Moment," "A New Life," and "Someone Like You."
$20 and up. Nov. 9, 8 p.m., Nov. 10, 2 p.m. & 8 p.m., Nov. 11, 1:30 p.m. & 7 p.m. Belk Theater, 130 N. Tryon St. 704-372-1000. www.blumenthalarts.org
.