(For Chapter 1, go here. For Chapter 2, go here.)
I have to say, I can't think of a better way to spend my * cough cough * ...th birthday than attending a premiere film festival in a beautiful city with my lovely wife Natalie by my side. But while I did receive two cards from her (one pictured above; incidentally, the inside reads, "'It's not the years, it's the mileage.' Here's to Being Well-Traveled. Happy Birthday"), most other celebrations will have to be delayed until we're back in Charlotte, as Savannah Film Festival screenings wait for no man (or woman).
I actually saw the following films earlier this week, not on my actual birthday (Tuesday the 30th), but bear with me: There's been so much going on that I'm still playing catch-up.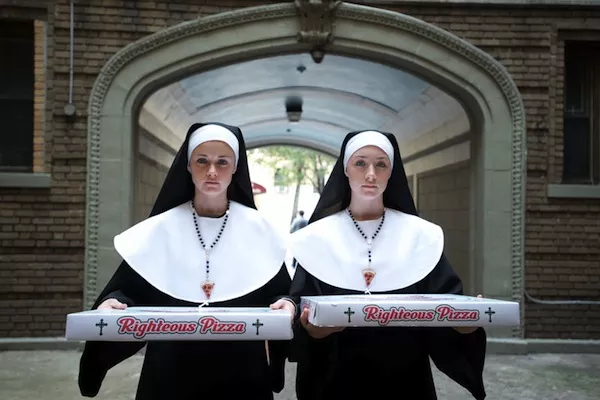 VIOLET & DAISY — Geoffrey Fletcher, who won a Best Adapted Screenplay for Precious a couple years ago, here makes his directorial debut with an original script he penned himself. Alexis Bledel and Saoirse Ronan play the title twofer, about the unlikeliest pair of killers yet seen on the screen. Violet (Bledel) is in her 20s while Daisy (Ronan) is just celebrating her 18th birthday — together, they rank among the nation's top 10 paid assassins, although their off-the-job behavior largely consists of playing patty cake and holding out for new dresses from their favorite label. Their latest assignment requires them to kill a sad sack named Michael (James Gandolfini), but because he welcomes extermination, they find themselves hesitating, unsure how to approach a man who wants to die. Fletcher's idea of having two female assassins as his leads turns the Tarantino template on its head, and in that respect, it's a better watch than many of the countless rip-offs that have materialized in the roughly two decades since Pulp Fiction. But while Bledel and Ronan are both fine — the former gets to exhibit all the attitude as the vet of the team while the latter gets to display more emotion as the naïve recruit — Fletcher doesn't allow us to get inside their minds to the extent required. We learn more about Michael than the ladies, which aids Gandolfini as he delivers the movie's most soulful performance.
(The screening of Violet & Daisy was accompanied by appearances from Geoffrey Fletcher (above left), who received the festival's Cinevation Award, and James Gandolfini, who joined Fletcher for a post-show Q&A.)
Reviews of When You Find Me and Wonder Women! The Untold Story of American Superheroines after the jump.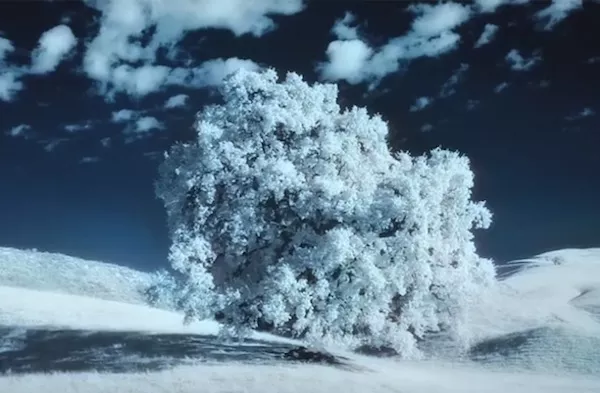 WHEN YOU FIND ME — So here's the story behind this short film directed by actress Bryce Dallas Howard. Her dad, Ron Howard, launched the Project Imagin8ion competition in conjunction with Canon, inviting photographers to send in their shots as they related to a series of key words (including "setting," "mood," "obstacle" and "the unknown"). A winning image was selected in each of the eight categories, and the Howards, scripter Dane Charbeneau and cast and crew pooled their talents to create a half-hour drama. It's a wonderful idea meant to foster creativity — and Project Imaginat10n is now underway, with films to be directed by Jamie Foxx, Eva Longoria and others — but the true artistry is in the inspirational shots, not the finished movie. Because the filmmakers are forced to connect the predetermined dots (i.e. the thematic photos), When You Find Me never feels organic, instead emerging as a hopelessly pedestrian drama about a pregnant woman named Lisle (Erin Way) and her memories involving her estranged sister Aurora (Jacy King). As children, the shenanigans of Lisle (played at the younger age by Devon Woods) resulted in the siblings not being at the hospital when their mother passed away — a tragedy that prejudiced Aurora (Karley Scott Collins) against her little sister. Amateurish performances and a heavy-handed screenplay work against the film's success.
WONDER WOMEN! THE UNTOLD STORY OF AMERICAN SUPERHEROINES — Although it runs only an hour, this highly entertaining and informative documentary manages to do service to an expansive topic: the underrepresentation of heroic female characters in comics, movies and other forms of entertainment. Wonder Woman serves as the anchor in this film's odyssey, with much of the running time spent analyzing her transformation over the decades: her comic-book origins as an Amazonian goddess as strong as any male hero, her subsequent taming as a buxom beauty stripped of her powers and more interested in romance than fighting crime, her elevation to status symbol for the feminist movement, and her reemergence both on the printed page as a potent superheroine and in real life as an inspiration to women from all walks of life. The piece also examines the strong female characters seen on 70s television (Lynda Carter is on hand to discuss the prime-time version of Wonder Woman, while Lindsay Wagner is interviewed about The Bionic Woman), the rise of hyper-masculinity during the Reagan '80s (Schwarzenegger and Stallone flicks), the kick-ass ladies of 1990s cinema and TV (Terminator 2's Sarah Connor, the warrior princess Xena, Thelma and Louise) and the riot grrl movement in music (with Bikini Kill frontwoman Kathleen Hanna discussing the subject). Between the captivating clips and the enlightened talking heads, this is one nonfiction feature that, were it just a bit longer, would be worthy of breaking away from the festival circuit and enjoying regular theatrical runs.
(The Savannah Film Festival continues through Nov. 3. Full details here.)