Editor's note: In this series, local author David Aaron Moore answers reader-submitted questions about historic places in Charlotte. Submit inquires about unusual, noteworthy or historic people, places and things to davidaaronmoore@post.com.
I'm not implying I believe in anything supernatural, but I have heard and read a number of stories about places in Charlotte that are said to be haunted. What's your favorite scary place? — Corey Bartlett, Charlotte
Like you, I tend to be skeptical. However, I try to keep an open mind about such things. On a personal level I've had a few experiences that have raised questions about the world around me: Did I really see or hear that or was it the other 80 percent of my brain we purportedly don't use suddenly kicking in?
Who knows?
Nevertheless, Palmer Fire School, which is located on 7th Street in the Elizabeth neighborhood certainly sent chills down my spine when I visited back in 2003. Built in 1940 by members of the Charlotte Fire Department, it was purchased by developer and historic architecture enthusiast Bryan Barwick the year I visited the site. He has since repurposed it in to a multi-use facility.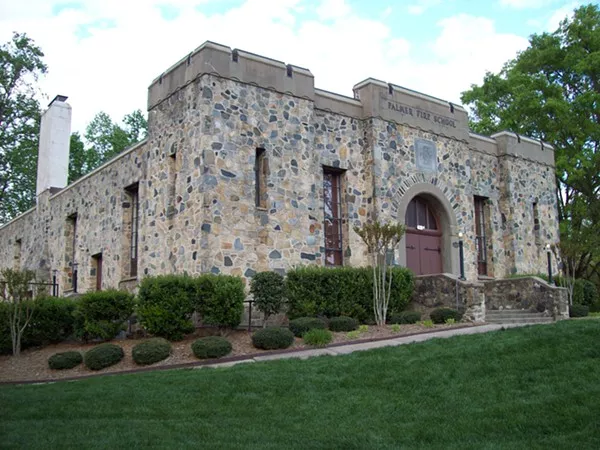 The Charlotte Fire School was constructed in 1940 from the salvaged stones that were once part of an old tannery in center city Charlotte.
During the restoration process, one of Barwick's subcontractors, Sandy Woods, took some digital photos in the basement area.
"She called me a few days later and said I needed to see the images," Barwick told me.
In some of the photos were several circular globes of light, immediately recognized by the photographer as phenomena she'd read about - referred to by paranormal research specialists as "orbs."
Sandy Woods
Woods captured these glowing "orbs" in the darkened underbelly of the Palmer Fire School while taking photos for redesign planning
Orbs are believed by some to be the "life force" of those who once inhabited a physical body on earth and have willingly stayed behind because they feel bound to their previous lives.
"I am not saying ... I do or do not believe in such things," Woods wrote in an email. "But I certainly could 'feel' things while in the basement area. I was never afraid, I just felt touched by some kind of energy and all the history that The Palmer Fire School represented."
Nothing in that history includes anything very salacious or negative, according to records I've pored over.
Beyond the orbs and unusual feelings, another strange occurrence caught Barwick's attention. While work was being done on the interior ceiling of the ballroom, a small plastic tomahawk - a child's toy - was found lying in the inaccessible crawlspace between the roof and ceiling. Dating back to the mid 1950s, it's clear that the construction of the building pre-dates the toy.
How did it get there, and who was responsible for the act? Was it a favored object of some long gone spirit who had fond recollections of the Palmer Ballroom and wanted to place the cherished memento there for safe keeping? To this day, the question remains unanswered. Access to the crawlspace between the roof and the ceiling simply was not possible because there were no slide ceiling panels or pull-down stairs and no record of remodeling or roof repair prior to Barwick's efforts in 2003.
Moore is the author of "Charlotte: Murder, Mystery and Mayhem." His writings have appeared in numerous publications throughout the U.S. and Canada.