Despite its saccharine title and rubber ducky logo, Baby the Musical turns out to be mostly substance and not at all the pabulum you might expect — particularly when it's being done by Davidson Community Players. Nor are there any offstage eruptions of colic, maternal cooings, baby bassinets, or drowsy early-morning bottle feedings. The three couples who share the stage at Armour Street Theatre actually don't do any parenting at all. It's all about what happens before the blessed event in Sybille Pearson's suburban-flavored book.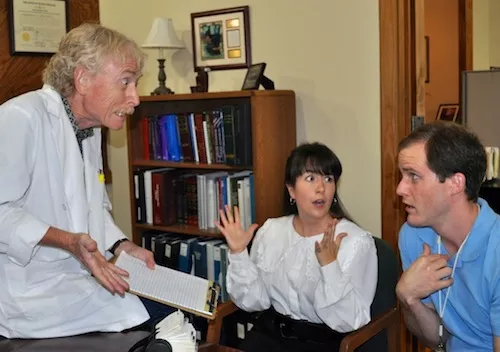 Arlene and Alan McNally are empty-nesters, who are thinking about selling their home now that the kids are gone, when they get the news that the frisky celebration of their freedom has yielded the traditional biofeedback. At the other end of the age spectrum, Danny Hooper and Lizzie Fields have plenty of time left on their biological clocks. Too much time, we assume, since Lizzie gets the news while she is still a college sophomore — and she's not jumping at Danny's marriage proposal. In between are Nick and Pam Sakarian, two rather athletic people watching the time on their biological clocks run down with no children to show for their efforts.
As varied and true-to-life as those storylines are, they might still devolve into sugary goo were it not for the music of David Shire and the lyrics of Richard Maltby, Jr., more in the manner of Stephen Sondheim than Barry Manilow. So for the most part, I'm drawn in to the various trials of these three couples — largely because, for the most part, director Melissa Ohlman-Roberge has found a strong cast and kept the cutesiness on short rations.
Kevin Roberge and Christy Hinkleman are particularly nuanced as the McNallys, whose marriage is doubly threatened by the unexpected pregnancy occurring at exactly the time in their lives when they must re-learn the art of living contentedly alone together. Nearly as good, Austin Larkin and KC Roberge deliver the tensions and undercurrents between Danny and Lizzie with a youthful zest and spontaneity. Larkin gets the better of the two solos, "I Chose Right," at the end of Act 1, but Roberge joins him on the best duet of the night, "Two People in Love" after intermission.
Daniel Breuer and Emily Hunter fall somewhat short as the trying-to-conceive Sakarians, with Nick's jokiness too emphatically artificial coping with Pearson's most clichéd writing. Our best comedy comes reliably from Larry Ligo in an all-too-brief cameo as the Doctor. But you can bet that "Fatherhood Blues," sung by the guys, isn't a downer. Ditto for "The Ladies Singing Their Song," which launched Act 2.
In true Sondheim spirit, Pearson staunchly disdains a fairytale ending for any of the three couples. Yes, you're hearing me correctly: Baby is surprisingly adult.
Over to the east, UNC Charlotte's recent production of Paula Vogel's How I Learned to Drive may have been too adult to handle. Vogel is uncompromisingly honest about the toxic chemistry of a deep south family where child molestation is practiced and tacitly tolerated. Adding a clinching touch to Lon Bumgarner's pitch-perfect stage direction was the one adult actor in the otherwise all-student cast, Joe Rux, portraying the drunken pedophile Peck — in the best of numerous stellar performances we've seen from him.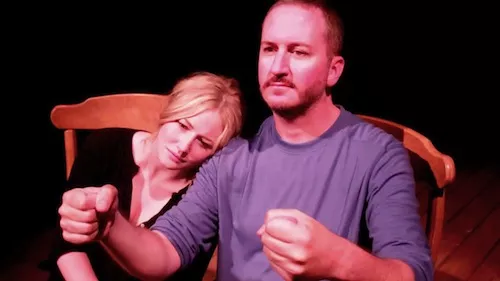 Designing the set and lighting, Bruce Auerbach leaned heavily on the scheme of Vogel's learning-to-drive scene divisions, hanging cautionary signs at one side of the rustic layout and wicked double entendres at the other. Try "Crossroads," "Yield," and "Children at Play" when Peck has his pubescent niece Li'l Bit at his mercy in his Eldorado. "The last day I lived in my own body," she tells us.
Because it was staged in the intimate Lab Theater at Robinson Hall and because Bumgarner refused to trivialize the three-actor chorus playing the supporting roles in the Peck-Li'l Bit saga, UNCC's production was often more impactful than the area premiere staged by Charlotte Repertory Theatre in 1999. Bumgarner either told or allowed Rux to play Peck from the inside, with results that triggered powerful responses: horror, fury, pity, disgust, and ultimately, an urge to cheer when he died.
Olivia Radley took us to the tainted, tormented heart of Li'l Bit with the same objectivity. By some merciful instinct, Bumgarner realized that he didn't need to make Vogel's chorus into a travesty of a Greek chorus as Charlotte Repertory had. Just having college students — Ashton Smith, Stevi Gould, and Robert Artlett — portraying Li'l Bit's insensitive mom and grandparents was sufficiently outré and absurd with Rux anchoring the cast.
October was the perfect time for this fine production. Turned loose into the chilly autumn night, I was thoroughly creeped out.