A quick peek at the portfolio of local photographer Sandra Guynes of Hip Chick Photography (www.hipchickphoto.com) reveals impressing shots of cuddly newborn babies. But Guynes is versatile in the directions she points her lens. Her photographs range from colorful, celebratory shots of babies and couples to darker, poignant portraits of domestic violence victims.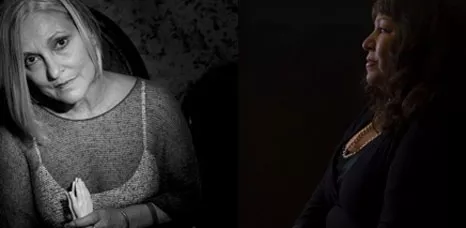 The latter collection of new works, specifically snapped for Pearls (www.pearlscharlotte.org) — an organization utilizing art as a means of healing and expression for female victims of abuse and domestic violence — will showcase with accounts from victims in an exhibit at Pearls: Personal Encouragement and Renewal Ladies Soiree on Oct. 20 at Synergie of Wellness.
The organization, created in July by Guynes and Lissette Torres of Synergie of Wellness, will provide monthly art-driven programs starting in January 2013. Guynes, who is a victim of violence, said her inspiration for creating the organization came from her own struggles to find a supportive haven where she felt comfortable recalling her experiences.
"I felt that being an educated professional or having any kind of status made it seem like it was a dirty little secret or something that I couldn't talk about. There was no place for me to go. The shelter had a certain stigma to it and I couldn't really talk to my family," says Guynes.
"One of the things that we want to do is change the stigma of domestic violence. It happens to everyone and my target audience for Pearls is more of the middle and upper class, because I feel like they are the ones who struggle with and aren't able to get out of the situation or tell people because there is no outlet for them."
In an effort to raise community awareness and funds for upcoming Pearls classes, Saturday's debut event will feature a variety of activities, including self-defense demonstrations, Zumba and dance classes, art demos and massages, and artwork.
Hickory resident Michelle Major Johnson (www.beavoicearts.com), a former victim of domestic violence, will showcase a series of her works that were slashed by her abuser. She will also present her Wedding Dress Voice Project - her wedding dress serves as an interactive mobile where domestic violence victims can pin art and writings.
"My vision for this whole thing is that we will connect all these women together to create that pearl necklace and that we are able to be the pearls of wisdom for those women who are going through this now," says Guynes. "So, not just that we've gone through this experience and that we've moved on and are in a better place, but that we can be the pearls for others that are in that situation right now."
$5. Sat., Oct. 20, 10 a.m.-4 p.m. Synergie of Wellness, 5700 Executive Center Drive. 704-817-8793. www.pearlscharlotte.org.