Written originally as a Master's thesis when the spirit of Woodstock and hippie flower power were as fresh in the air as jasmine incense, Godspell took six years before evolving into a 1976 Broadway musical, with an epic off-Broadway run in between. What catapulted John-Michael Tebelak's concept from obscurity to fame was the addition of Stephen Schwartz's music, including such confections as "Prepare Ye," and "We Beseech Thee."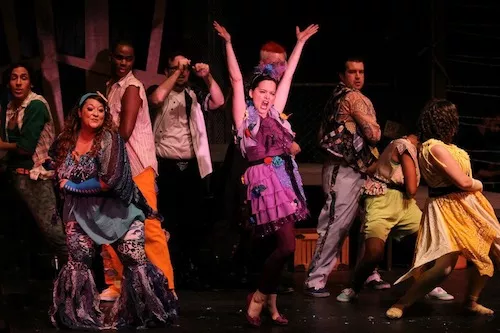 Yet the evolution of the piece hasn't diluted the flavor of the original inspiration, as the current CPCC Theatre production, directed by Stephen and Susan Gundersheim, vividly demonstrates. It's as if one stoned hippie said to another, between inhalations of hash, "Hey, man. Why don't we write a musical about the Bible? Only instead of everybody looking like Jesus and the Apostles, they'll all look and dress like us!"
Far out! Taking the Gospel According to Matthew, Tebelak and Schwartz effectively removed nearly all the sacerdotal pomposity in telling the story of Jesus' revolutionary doctrines, his devoted following, his betrayal, and crucifixion. Or they do in Act 2. What we see in Act 1 seems to be coming from a truly stoned creative team, already putting their ideas down on paper before they've come down from their high. With Jesus illustrating his parables through clowning and parlor magic — to an audience of disciples with the intellectual and emotional depth of Sesame Street enthusiasts — I find Act 1 of Godspell more crushingly silly, goofy, and tedious each time I see it.
I'm sure the gaudy Day-Glo costumes designed by Jamey Varnadore will help to liven the spectacle for first-timers. For me, they only deepened the impression that I was suffering through Cats one more time, only here they were getting religion.
The Gundersheims aren't to blame, for they have assembled a very strong cast, and the dark-hued set by James Duke — complemented by his own lighting — certainly has the elegiac heft we need in Act 2. CPCC's cast is largely young and energetic, but the energy is hardly ever overdone or phony. Considering what they have to deal with; beginning with a parade of sages that includes Socrates, Aquinas, Nietzsche, and Bucky Fuller; continuing with some dopey enactments of parables; I'd call the preservation of any dignity or credibility a triumph.
So if you're pre-sold on Godspell, go to this one at Pease Auditorium by all means. It's strongly anchored by Ryan Deal as Jesus and Steven James as Judas. Aside from the theological issue of whether the son of God would wear glasses, Deal is an infallible mix of strength, vitality, and kindness, while James seethes with charismatic malevolence. Among the supporting cast, especially noteworthy performances are turned in by Matt Carlson, Ericka Ross, Meredith Owen, Jimmy Chrismon, and — soloing on the familiar "Day by Day" — Lexi Karabatsos. The three-piece band, fronted by guitarist Chris Jones, mercifully saves us from saccharine.