Charlotte artist Kendra Baird's "A Misty Rain" is nothing like French impressionist Gustave Caillebotte's "Paris: A Rainy Day." But there is one thing they have in common: umbrellas. Since Baird paints hers in yellow — as opposed to black — they convey a sense of optimism in contrast to the neutral-colored tones, representative of the rain's dreariness.

Her bio states, "The rain scenes portray both discomfort and sadness, and the awareness that we are protected from those emotions because of what the umbrellas represent." Baird, who draws inspiration from nature, the weather and the world around her, often sees visions of her paintings when meditating and dreaming. Her art — comparable to the enchanting works of Lark & Key gallery co-owner Duy Huynh — creates a sense of balance between melancholy and glee.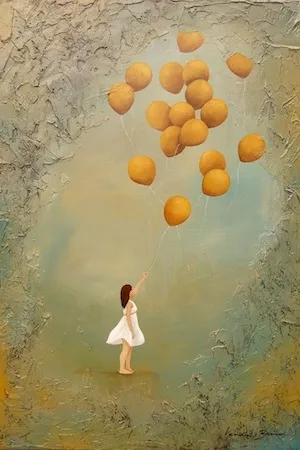 The exhibit also featuring pottery by Mark Knott. Opening reception on Oct. 5, from 6 p.m. to 9 p.m. Exhibit continues through Nov. 24. Lark & Key Gallery and Boutique, 128 E. Park Ave., Suite B. 704-334-4616. www.larkandkey.com
.