On a Friday afternoon in late August, two men walk into a Mediterranean restaurant for the first time. Both are wearing polarized sunglasses and wool suits in the dog days of summer. You'd think they were part of the Secret Service.
Stock Car Johnson orders a shawarma lamb wrap but can't for the life of him pronounce "potato harra." Each swig of "moonshine" only makes it worse. QC Banks, who only speaks when necessary, gets the falafel wrap. But their orders get switched — and they don't realize it until they're eating each other's lunch.
"I believe I have your shawarma," Banks deadpans.
Eric Brody
From left, QC Banks and Stock Car Johnson
Johnson and Banks may not look like they know what they're doing, but appearances can be deceiving. The two have become unlikely ambassadors for the city. Six months ago, they created the Charlotte Bureau of Awesome, a tongue-in-cheek online visitors bureau. Originally made for DNC visitors, the website includes historical fast facts about the city, which third-generation Charlottean Johnson (real name Jason King) began to tweet each day leading up to the convention on his and Banks' Welcome to the DNC page. They both felt it was the right time to share their passion for living in Charlotte.
"I could go on for days about the city," Johnson said. "I felt with the convention delegates coming that [Banks and I] couldn't go wrong."
During the DNC, the two debuted a Waiting for Guffman-like video on YouTube of their jaunts around the city, including to the Philosopher's Stone Tavern, Little Sugar Creek Greenway and Pinky's. Their goal was to capture the sights of sounds of Charlotte and also tease a future video of them driving fake delegate Miss Demi, played by Charlotte's reigning Twitter queen Shannon Dawn Rauch, to Time Warner Cable Arena. The video is far more style than substance — as are Johnson and Banks — and that's how they pique people's curiosity.
"We want people to be able to come to us," Johnson said. "We want to find out something about this city whether it's historical [or] very functional. So thanks to the DNC, this has become a mission of ours."
The Charlotte Bureau of Awesome had one crushing setback during the DNC: Real-life obligations. Johnson, a chef at an upscale Uptown restaurant, had to work the door at the Colorado and Massachusetts delegate parties. King decided to blend his persona and real-life self, even taking on a super-secret assignment to help me find George Clooney. (Colorado delegates claimed to have invited the actor to their Sept. 3 bash. The star, much to my disappointment, never showed up.)
Johnson's two sides are sometimes complete opposites. In real life King doesn't drink alcohol, while his alter ego is always sipping moonshine, which he carries everywhere in a clear mug (it's actually just tap water). King has found a happy medium between being himself and Johnson without breaking character.
"I picture Stock Car in third person as I speak," he said, seeing him as "a little bit of a lovable loser. And that's where QC [Banks] really comes in."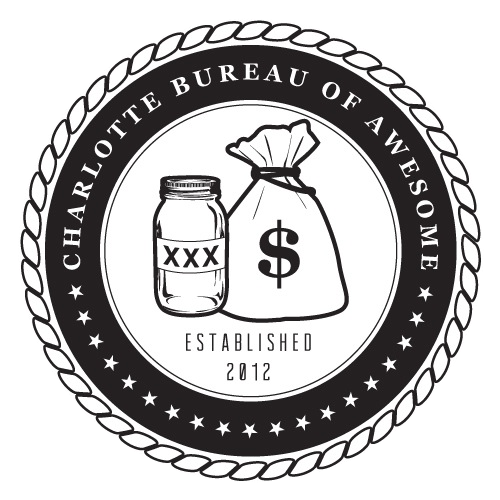 Banks (Jarrett Tolman) is the brains to Johnson's brawn. The stoic man behind the shades started out as a spoken-word poet under the name Turtle 10 years ago. He founded and performed in the arts coalition Emancipated Logik in 2003 and is currently on hiatus with the group. The artist also performed with the local band Eyes of the Elders, opening sets by reading poetry. As Banks, he became the writer, director and editor behind the "Welcome to the DNC" Youtube video.
Although Banks does not speak often, he makes it count when he does: His spontaneous utterance of "Welcome to the DNC, motherfuckers" to Johnson inspired them to start the bureau. From there the friends, who met as extras on the set of the 1990 movie Days of Thunder in Charlotte, started developing their personas. They also enlisted the services of Johnson's lifelong friend Eric Brody to film their video. The project will live beyond the DNC.
"We want to see the awesomeness continue in this town, be it the arts, entertainment, music, food," Johnson said. "There's going to be a need for a bureau of awesome in this town."