With all the products, treatments, strategies, and attitudes touted as gateways to success in America, ordinariness and failure become more galling all the time — while our collective fascination with winners rises. Yet with so many siren calls, come-ons, and outrageous propositions all around us, we are occasionally surprised to be reminded that success comes at a price. Distilled from When Pride Mattered, the David Maraniss biography, Eric Simonson's Lombardi is at Carolina Actors Studio Theatre through Sept. 29. It gives us a candid snapshot of the driven football coach who rose to the top of his profession with glimpses of the people he ran over to get there, and the fatal signpost he ignored along the way.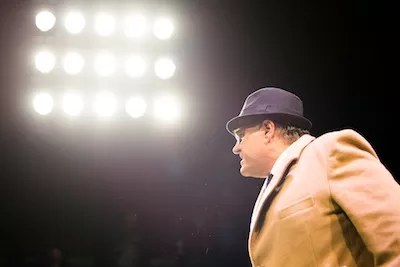 Fathoming the heart of Vince Lombardi is the assignment of our narrator, Michael McCormick, sent out to frigid Green Bay by his editor at
Look
magazine. So McCormick gets to bunk out at the Lombardi residence, join coach on the practice field before a crucial NFL game, and hang out with future hall-of-famers Paul Hornung, Jim Taylor, and Dave Robinson. The kid is sufficiently intimidated by the crusty coach that he hangs onto the skirts of Marie Lombardi, Vince's wife, enough to grasp the toll
her
move from New York to Wisconsin has taken, but she eventually shoos him away. McCormick's fears turn out to be justified when Vince banishes him from practice with a leonine tongue-lashing. Yet that abuse seems to be the incident that finally enables McCormick to establish a rapport with the players.
Being abused by Lombardi makes you one of the guys. It becomes a badge of honor as McCormick and the football stars adjourn to a local bar.
Having taken us to Kentucky as Skeets Miller in Floyd Collins, Daniel O'Sullivan is on his second cub reporter assignment of the year as McCormick — and his youth is more of an asset. You can see an emphatic coming-of-age when he finally stands up to Lombardi, making it more natural for the tyrant coach to accord the kid a degree of respect. Compared with the Broadway version starring Dan Lauria and Judith Light, CAST director Michael R. Simmons isn't interested in striking as even of a balance between Lombardi's dark and sunny sides — or between the strengths of husband and wife. The rocky relationship between coach and journalist is gauged far more precisely.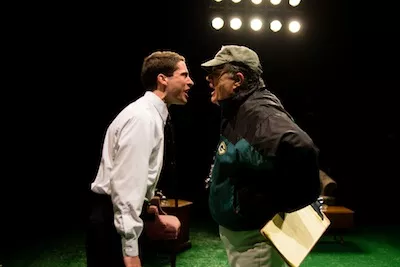 Charles LaBorde comes at the domestic Lombardi with more theatricality than needed in the cozy CAST quarters — and too much Brooklyn accent. His defensiveness strikes me as too close to LaBorde's Willy Loman, lacking the confidence and expansive charm of a winner. The peremptory impatience toward his wife seems to deprive Paula Baldwin of the chance to render Marie as a dignified, dissolute Norma Desmond, relegating her instead to a plain doormat.
But make no mistake about it, LaBorde gets the chemistry with McCormick just right, and in the heat of battle, either giving Lombardi's famed "in the alley" presentation of the Green Bay Sweep or raging on the sidelines in the middle of the game, LaBorde is positively stirring. The excess Brooklynese peels away, and he's more convincing than even Lauria. As the hall-of-famers, Joshua Wayne Gardner as Hornung, J.R. Adduci as Taylor, and Jermaine A. Gamble aren't as Central-Casting perfect as their Broadway counterparts, but only longtime Cheeseheads or Packer haters will detect the difference.

With all the diligent attention CAST spent on the set design (Dee Blackburn), the video (Donald Devet), and even on Lombardi's teeth and hair (Dr. Mark Icard and Jason Estrada), couldn't somebody have taught these studs how to strike a cue ball? That one poolroom lapse stood out like a sore thumb last Friday night, a laughable breach with CAST's experiential aesthetic. In this case, aesthetics don't adequately describe the intimate authenticity of the overall experience. We're seated in a stadium formation surrounding the stage, looking up at projections of scoreboards that are throwbacks to the 60s, and the players will make every move on a gridiron of Astroturf. We are readied for some football!