For Mexico-native and Charlotte resident, Annabel Manning — a photographer and mixed media artist specializing in participatory art with concentrations on political and social issues — Occupy Charlotte was an inspiring encounter. Not only did she participate in marches and assemblies, but she compiled a related exhibit, Occupy Charlotte, Then & Now. Popping up just before the DNC, it conveys the overall experience of the movement from an emotional standpoint.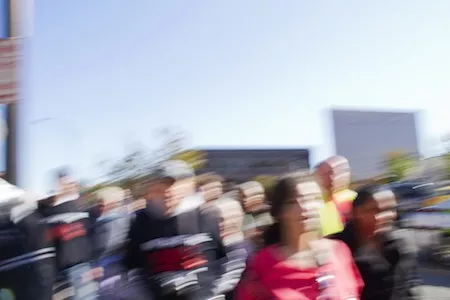 Using her camera lens, a video recorder and paper as primary materials, Manning documents the country's marginalized discrepancies while bringing together the community for an interactive spin.
"Very early on, I decided to make photographs of the movement. Coming from an artistic background, I wasn't really interested in the documentation per se, but just the expression and feelings inside of the movement," says Manning.
The exhibit, held at Central Piedmont Community College's Ross Gallery, consists of two primary parts: In the "Then" section there are photographs and a set of projections that addresses movement. In the "Now" section, there are small-scale paper tents created by visitors and a freedom cage.

A total of 13 photographs, most of which are heavily blurred, are on display in the exhibit. "The blur in the photographs is expressing that sort of feeling they had of uncertainty and dissatisfaction," says Manning. "There were times where I wanted to show people in the moment. If there was no blur, it was because there was some sort of conversation or it was showing buildings where the movement was taking place."
Manning, who is currently working towards a Masters program in Fine Arts in Experimental and Documentary Art at Duke University, frequently works with McColl Center for Visual Art and Bechtler Museum of Modern Art to promote socially engaging artwork. By visiting prisons, schools and senior centers, she engages with the community in projects that challenge them to create and better understand art. It was this relation to her line of work that pushed her to go beyond a showcase of her own works and include the public project of hand-sized tents, which also symbolically and metaphorically occupy the space.
The idea for these was based around Occupy Boston's Tiny Tents Task Force, a group from the movement that crafted miniature tents with messages written on them and placed around the city. Currently, the Occupy Charlotte exhibit has around 100 small-scale tents from folded cutouts of paper.
"Having just the photos an exhibit on the wall was not what I had in mind," says Manning. "I had in mind something that would bring them back into the picture and have them participate." During the exhibit's Aug. 30 reception, members of Occupy Charlotte showed up for support. "They were moved by the exhibit because it was consolidation for something they've done and a difference they've made," says Manning. "It was emotional."
Free admission. Exhibit continues through Oct. 14. Gallery hours: Monday-Thursday, 10 a.m.-2 p.m. CPCC's Ross Gallery (in the Overcash building), 1201 Elizabeth Ave. 704-330-6211. http://arts.cpcc.edu/art-gallery.