Liz Kearley is mad.
She stood in line for seven hours on Saturday to receive her community credential for President Obama's big Thursday night speech. She felt lucky - some people waited for five hours and walked away empty handed. But the retired Charlottean's once golden ticket won't get her anywhere now.
The Democratic National Convention Committee announced on Tuesday that Obama's renomination speech on Thursday night has been moved from Bank of America Stadium to Time Warner Cable Arena, which has been the site of official convention proceedings since Tuesday. The move was made — per today's press release from the DNCC — due to severe weather predictions, since Bank of America Stadium is an open-air venue.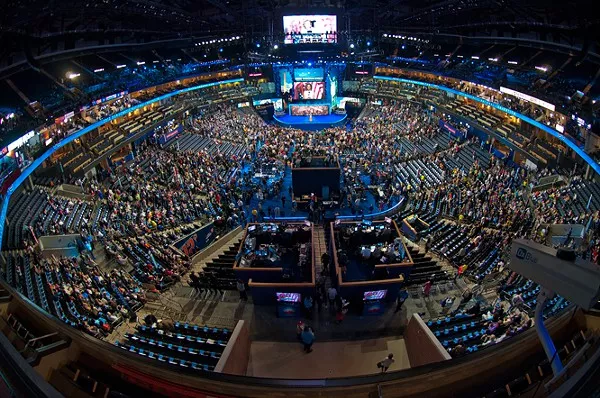 Time Warner Cable Arena, where Obama will now give his speech
Florida distict delegate Tom Finnerty signed up to receive a guest credential for his college-aged son Sean, who came from Guatemala to attend the entire convention. But the DNCC told Finnerty that his son could only attend Thursday night, leaving Sean to go back to studying abroad without seeing the president.
"He was really excited," Finnerty said.
The 65,000 people who signed up for community credentials won't be able to fit into Time Warner Cable arena, which only seats a maximum of 20,200. Those who signed up will have to settle for a national conference call tomorrow afternoon with the president or possibly have a chance to watch him speak between now and Election Day. None of those options take the sting out of missing tomorrow night's speech.
"If there was a football game tomorrow night, do you think they would call off the football game?" Kearley asked.