Up in NoDa, around the corner from the Neighborhood Theatre, Wine Up has become the capital of Queen City performance art. Not only does the venue host Charlotte's champion poetry slammers, but it's also become home to a string of one-man shows, beginning a couple of weeks ago with Hank West's Steinbeck Was Wrong.
Today (Sept. 5), Citizens of the Universe brings a pair of twin bills to the venue. This includes James Lee Walker II performing Marx in SoHo and Citizens Of The Universe founder James Cartee reprising Gonzo: A Brutal Chrysalis. The marathon begins at 2 p.m. — yes, this is a Wednesday matinee in Charlotte! — when Karl Marx returns from the afterlife to London, only to get sidetracked to NYC, where he must explain the difference between his writings and the historical aberrations of Marxism. Then, it's the 1968 DNC all over again when Cartee chimes in later at 3:30 p.m. for an over-the-top evocation of the iconic inventor of gonzo journalism, Hunter S. Thompson — in all his paranoid pill-popping, booze-swilling, gun-toting, phantasmagorical-prose-spewing glory.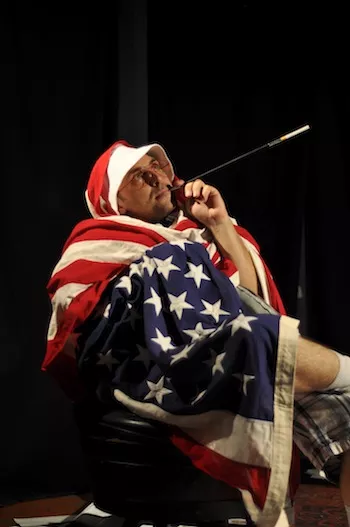 The double feature repeats with
Marx
at 8 p.m. and
Gonzo
at 9:30 p.m. In between the COTU twins, DJ Crabtree sings until 7:30 p.m., and after Thompson trashes his final typewriter, The Collectives play until 1 a.m. $10 suggested donation.
Marx In SoHo
: Sept. 5, 2 p.m. & 8 p.m.;
Gonzo: A Brutal Chrysalis
: Sept. 5, 3:30 p.m. & 9:30 p.m. Wine Up, 3306 N. Davidson St. 704-372-2633.
www.wine-up.com
. For more information, visit
www.citizensoftheuniverse.org
.