The Tuesday morning breakfast gathering of the North Carolina delegation served as a walk-through practice for the state politicians who will be speaking at the DNC this week.
Gov. Bev Perdue (who will be speaking at the convention later today) and Congressmen Mel Watt, David Price, Brad Miller, G.K. Butterfield and Mike McIntyre — as well as a contingent of office-seeking candidates — showed up at the Crowne Plaza Hotel on South McDowell Street to address the group of locals, many presumably hungover from late-night DNC parties. For the speakers, it was a chance to fire up the base and glad-hand the faithful before their big moment in front of an audience of nationwide delegates and nerds watching on C-SPAN.
The biggest surprise guest was McIntyre, who initially planned to skip the convention and try to portray himself as bipartisan in his newly gerrymandered district in the eastern region of North Carolina. But for a veteran pol like McIntyre facing the race of his life, with most pundits predicting his political demise, it was an occasion to come and repent before the true believers of the state delegation.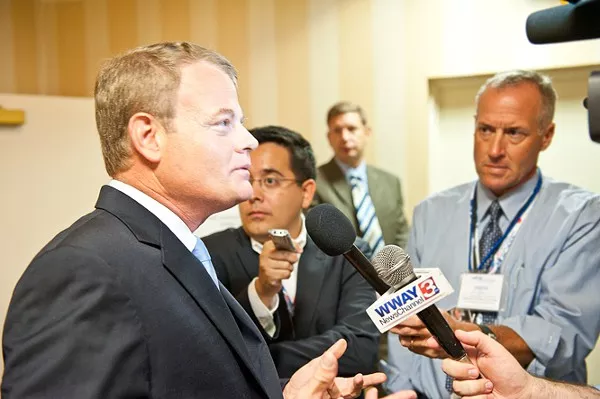 Congressman Mike McIntyre
As the delegates gathered over coffee and pastries, McIntyre took an approach that seemed to fit his persona as a survivor without a backbone. "With your support, I move up to number three on Armed Services and two on Agriculture," McIntyre said, referring to the committees he sits on in Congress.
There it was in a nutshell: No passionate rhetoric about what's at stake in the election, or what the poor or the middle class of North Carolina need to recover from the recession. Just self-absorbed appeals to the pragmatism of the party activists in the delegation. They need him, and the national Democratic Party also needs him if it has any hope of retaking the House in November. But his use to the overall greater good is only the committee seats he occupies.
At party conventions, good public servants are brought together with practitioners of the dark side of American politics: the cronies, sellouts and cookie-cutter candidates with no substance. And McIntyre is of that sort. But at least he showed up.
In contrast to McIntyre's self-absorption, there was Congressman Miller, who appeared somber and reflective before his party base. The Republican redistricting of North Carolina placed him in the same congressional district as Democrat Price, and Miller took the noble approach of retiring rather than forcing a divisive primary fight.
His work on the Financial Services Committee for progressive causes will not be forgotten by many. "We've won some, and we've lost some," Miller said, as he looked back on a political career that began as Chair of the Wake County Democratic Party in 1985.
As to who looks ready for the national spotlight:
Gov. Perdue seemed relaxed and freed from the cares of campaigning, as she energized the delegates and practiced her welcomes for later in the day when she speaks in Time Warner Cable Arena.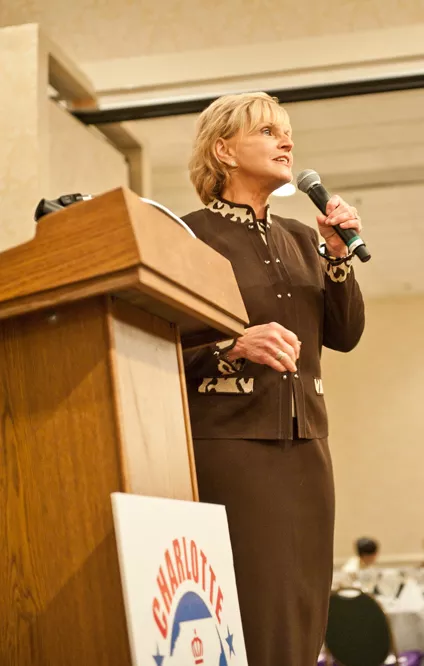 Congressman Price was classy and whimsical, as he told stories and poked fun at the Republicans' insincere efforts to work with President Obama in 2009.
Congressman Watt was subdued, simply providing logistical recommendations and perhaps saving his energy and material for later.
But the best orator by far was Congressman Butterfield, who readily admitted that these conventions are about "firing up the base and energizing our vote" for the election. "President Obama came in with a steady hand and stabilized the economy," Butterfield said.
Congressman G.K. Butterfield
"We've got to register 200,000 more voters before the election," he continued, as he laid the case for what it will take for Democrats to win again this cycle. His district is safe, and those new voters will largely go to helping pols like McIntyre.
If the morning was any indication of performance on the national stage, Congressman Butterfield will be one to watch, and Gov. Perdue will probably have some fun up there.