A marching band and its sassy sequined dancers performed outside of the NASCAR Hall of Fame Sunday night as the guests of honor — elected delegates from North Carolina, South Carolina, Virginia, Georgia and Tennessee — danced their way into the building, decked out in Americana accessories. Brenda Pollard, a North Carolina delegate, screamed for joy in my face and proceeded to jump up and down at the entranceway.
Janice Covington was enthusiastic as well, just not as overtly as Pollard.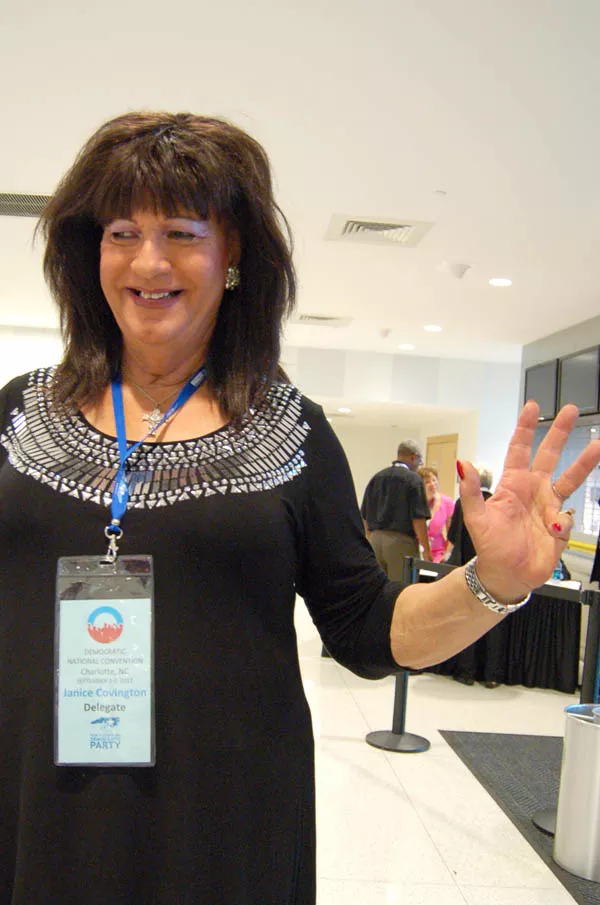 The one and only Janice Covington
Covington, the first openly transgender delegate at the Democratic National Convention, who was elected to the 8th congressional district of North Carolina, stood inside by the glass doors and asked how bad her hair looked after coming inside from an afternoon rain shower. All this 65-year-old wanted was a hard drink and her hair to stop frizzing, unless she found someone who, well, interested her.
"I brought my overnight bag," she said with a chuckle.
Pollard, a native North Carolinian from Johnston County, was elected to the 4th congressional district of North Carolina, which includes all of Durham and Orange counties, and parts of Wake and Chatham counties.
"I felt like I won American Idol," she said about being elected as a delegate.
CODEPINK, a women-led peace and social-justice organization, used the high-profile delegate party to protest political candidates receiving corporate contributions. Since race car drivers often wear uniforms with logos of their corporate sponsors like Shell Oil and Chevron, the protesters — wearing pink boas — mock suggested politicians like Barack Obama and Mitt Romney should do the same. Their goal was to raise awareness about corporate contributions to political campaigns, including funding from Super PACs.
"A lot of these elected officials really stand for electing different corporate interests rather than electing the will of the people," said Rae Abileah, 29, the co-director of CODEPINK.
The delegate party's scheduled entertainment — the 130-member Livingstone College Marching Blue Bear Band — came from Salisbury to play songs like "She Works Hard for the Money" by Donna Summer and "I Am Nothing" by Whitney Houston. Dancers in Fosse black body suits and silver Mary Janes flanked cymbal players. Drum major Dairon McGraw, 22, a music education major, turned and twisted a silver staff around his body. They played their tubas and horns in the rain, never missing a beat.
"I don't stand here alone," McGraw said. "I stand here representing my family, representing my ancestors. It truly is a blessing."