The voting booths over at Mint Museum Uptown are about to open and it's your civic duty to cast a vote — because art matters, damn it!
For folks who have no idea what I'm talking about, here's the lowdown: Mint Museum Uptown is placing a very important decision into the hands of art critics, fans and virtually anyone else who comes into its quarters, whether they be locals or visitors in town for the DNC, during its "Vote for Art."
The project gives the public the opportunity to vote on their favorite three pieces of art, out of six works on display. Based on the highest voting results, the museum will then acquire the three winning pieces to add to its permanent collections.
Voting kicks off today (Sept. 1) and continues through Sept. 7, with a brief pause before resuming on Oct. 1 and closing on Nov. 9 with the Mint's culminating Ballot Ball, a gala where winners will be announced.
Now, onto the art. Here are the candidates:
1.
Mattia Biagi's "Before Midnight"
Though I'd have preferred Biagi's "Stay Out of My Closet," a 6-foot Red Riding Hood-inspired wolf dressed and drizzled in tar, his gothic Cinderella-style carriage suffices. Both mixed media works were recently on view in the Mint's
Fairytales, Fantasy and Fear
exhibit. For "Before Midnight," contemporary Italian artist Biagi covered fiberglass in tar, a medium he began using after an influential trip to Los Angeles' La Brea Tar Pits. "Before Midnight" conjures feelings of childhood nostalgia with a darker focus on the loss of innocence.
2.
Vik Muniz's "The Birth of Venus"
Brazilian artist Vik Muniz uses photography, drawing, digital elements and lots of patience to meticulously arrange garbage (from soft drink cans, discarded furniture, household items, wires, chocolate and dirt), which is then shot from a camera above the project and thereby turned into works of art. The results are astounding. Repurposed materials come alive in a Where's Waldo? sort of viewing experience, with so much packed in that it's a little hard to focus sometimes. It's currently a part of the Mint's new exhibit,
VantagePoint X: Vik Muniz
.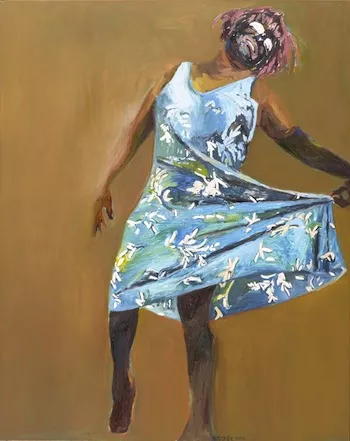 3.
Beverly McIver's "Dora's Dance"
McIver is a native of Durham, NC (woo hoo!), whose paintings are autobiographical. The works are mostly based off of snapshots that she recreates through her own are vibrant brush strokes. Using her family — including a deceased mother and a mentally disabled sister — as a muse she produces personal, emotionally charged artwork.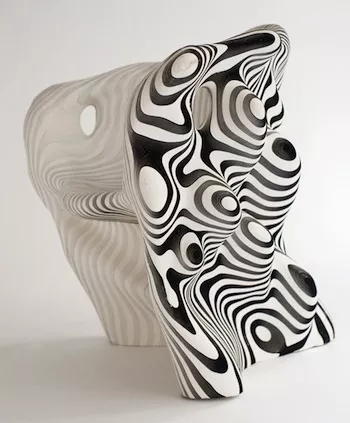 4.
Mathias Bengtsson's "Slice Chair Paper"
Bengtsson, a Copenhagen-based furniture designer, used layers of paper glued together to ground this unusual piece that's actually usable — not that
you'll
ever get the chance to sit in it.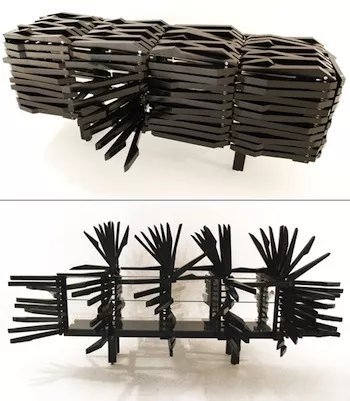 5.
Sebastian Errazuriz's "Porcupine Cabinet"
The Chilean-born artist has used lacquered wood, steel and glass to construct this easily disguised, prickly piece of furniture. The cabinet resembles a conventional modern structure, but with some quick maneuvering of slats, it transforms into what looks like a porcupine covered in quills.
6.
Nacho Carbonell's "Wood Branches, Diversity"
This strange piece was created out of metal armature, wood, branches,and papier-mâché at Carbonell's studio in Eindhoven, Netherlands. Carbonell experiments with natural elements in his odd contemporary works.
Free admission during CarolinaFest on Sept. 3 and Election Day on Nov. 6. Also free on Tuesdays, from 5 p.m.-9 p.m. $5-$10; free for children four years old and under. Museum hours: Tuesday, 10 p.m.-9 p.m.; Wednesday-Saturday, 10 p.m.-6 p.m.; Sunday, 1 p.m.-5 p.m. Mint Museum Uptown is located at 500 South Tryon St. For more information, call 704-337-2000 or visit www.mintmuseum.org.