When playwright Aaron Loeb's Abraham Lincoln's Big, Gay Dance Party premiered at the New York International Fringe Festival in 2009 (where it picked up the title of "Outstanding Play"), it set the question of the late president's sexuality dead center on a stage, rather than in academic settings where the topic had already been buzzing among scholars.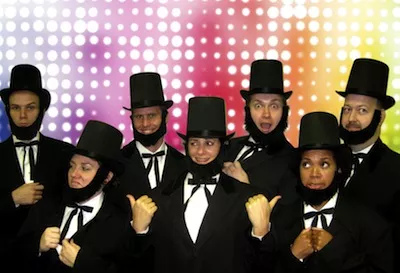 Humorously, the play — which comes to Blumenthal's Duke Energy Theatre under direction from Queen City Theatre Company — opens with adults portraying fourth grade students in what is to become a controversial holiday pageant in a small Illinois town where Lincoln spent parts of his adult life. As Abe reads what sounds like a declaration of love to his "personal friend" Joshua Speed, parental protest breaks out. From here, a member of the show's actual audience decides on a sequence of three acts that revolve around the trial of the teacher responsible for the gay portrayal of honest Abe that's ruffled the town's homophobic feathers. Serious stuff. Luckily, the play offers plenty of random jubilant dance sprees from a wacky cast of male/female actors dressed as Lincoln in beards, suits and top hats to add to the hilarity. Directed by QCTC's Glenn T. Griffin and starring Blake Smith, Jennifer Quigley, Daniel Breuer, Cynthia Farbman, Matt Kenyon, Iesha Hoffman and Christopher Chandler (L-R). $22-$24. Aug. 18, 8 p.m., Aug. 19, 3 p.m., Aug. 21-25, 8 p.m. Duke Energy Theatre, 345 N. College St. 704-372-1000.
www.blumenthalarts.org
.