It's not every day that we ladies (and some interested men) get a fashion show with a runway populated by men instead of women. But forget the latest fashion trends — Brief: A Fete for Fashion isn't so much about expanding our clothing racks as it is about pure sexy eye candy. We're talking male models parading around in swimwear and underwear by Polo, Calvin Klein, Hugo Boss, Mundo Unico and more.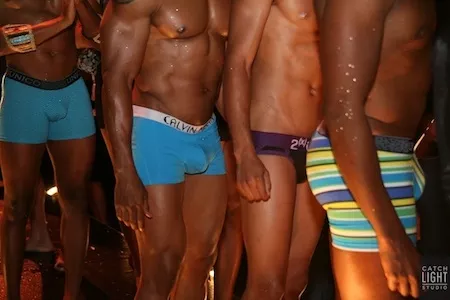 Judging from the photos taken at last year's event, this show will be hot, hot, hot. The models, in all their fleshly glory, range from lean to muscular, with bods resembling the scrumptious sculptures of Greek gods. Try not to drool as they strike their poses. It's all for good causes, too: proceeds benefit the Cystic Fibrosis Foundation and Regional AIDS Interfaith Network.
$25-$125. Sat., Aug. 11, 7 p.m. Extravaganza Depot, 1610 N. Tryon St. For more information, visit www.briefafeteforfashion.org
.