Polly Adkins will be directing Still by Jen Silverman at the first annual nuVoices for a nuGeneration new play festival at Actor's Theatre this week. But she had originally drawn another script, Cygnus, before circumstances dictated a sudden switch. Adkins talked about the experience and the script.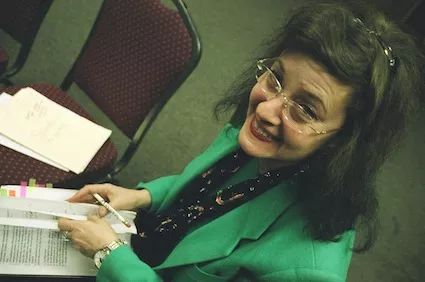 Perry Tannenbaum: How far were you into the process when the plays got switched up? Polly Adkins:
The cast had already gotten their scripts. We were not supposed to rehearse, but I know for a fact that they were very familiar with the script and had done a lot of memory work. It was an unexpected setback because we liked
Cygnus
. After reading
Still
, we very quickly realized that, with a few adjustments and adding a new cast member, that we were back on track, because this is a good script too.
I had to cast another one. I was adamant that, if possible, I keep the cast members that I had though there was the possibility, with the new script, that I couldn't use some of them. But luckily, the three that I had, with some adjustments, are still on board, and I had to get a new member, who was Glynnis O'Donoghue.
How many characters are you retaining?
There were three originally, Sarah Mack, Elyse Williams, and JR Adduci.
But the play wasn't selected to suit the cast.
I selected the cast to fit Cygnus. Thankfully, we were lucky, because three of the characters I was able to adapt. Elyse Williams is probably too old to have just had a baby, but it does say in the script that she was an older mother who wanted to have a baby very late in life. So Elyse is so beautifully young looking, we just decided to go with her. She is the mother of the stillborn baby.
So go over the characters and the story for me.
The story is absolutely very different. You might really enjoy an interview that Jen Silverman had with a woman named Elizabeth Heineman, who basically had had a stillborn child with a perfectly normal pregnancy. She and her husband were all excited, and the baby was born stillborn. They whisked the baby away. She didn't get to see it. She felt that the child's life didn't mean anything. So she actually went to the funeral director and persuaded him to let her take that baby home with her for two days, I believe.
And she and her husband introduced the baby to their house, they put it in a stroller and took it out for walks, and then they said goodbye. And they said this allowed them to grieve and say goodbye to the child that no one had let them see. So Jen Silverman's idea — she did not copy that story, but she made completely different characters, and JR Adduci plays Constantinople, who is a giant newborn baby who introduces himself in the very opening monologue. He introduces himself as a newborn baby born two days ago, and he is dead, but he wants to know the world before he leaves.
I think Silverman wanted to give the baby a bigger footprint in the world than people usually give stillborn babies, and she has done that with this show. Morgan is the mother. In the script, she's about 45, but we may make her a little bit older. Dolores, played by Sarah Mack, is an 18-year-old dominatrix — would-be dominatrix — she's pregnant too and doesn't want her baby. Glynnis O'Donoghue plays Elena, who is the midwife who lost the baby, and it's the first baby she's ever lost. So she's also going through a scared and grieving process of did-she-do-anything-wrong.
I don't want to give the impression that it's a sad grieving play. It is a very funny play. The playwright left this note on the very first page, "It is crucial that actors find and play the dark humor and moments of real joy in this play." In other words, she does not want two sentimental characters here.
We think we'll find that. We don't have a lot of time.
Why do you think this play has a chance to win the festival and be given a full production?
Well, to be honest, I'm not thinking about it as a contest, but Silverman has done a magnificent job with the show itself. We have gotten one rewrite since we got the original play, and there are a good number of additions and omissions that she has looked at and gone over. It's darkly funny and very quirky. There's really a lot to laugh about, because it's so bizarre, the whole situation. And of course, we've got the context of the dominatrix. There is nudity in this, but we're not going there with the reading. And in fact, the playwright says that the baby should wear as little as possible. So it's going to be a charming play, a little disturbing.
I think I've got a good cast. We will do it the absolute best that we can to have the audience laugh and maybe shed a tear or two.