Democratic convention developments are coming hot and heavy — very hot if you count a midday outdoor news conference announcing the details of the Sept. 1 media party that will see an estimated 15,000 journalists eating, drinking and watching as local and national acts perform. Time Warner Cable is the event's main sponsor, with a host of other local businesses involved (full list here). Mert's Heart and Soul owner James Bazzelle assured me there will be banana pudding on the menu.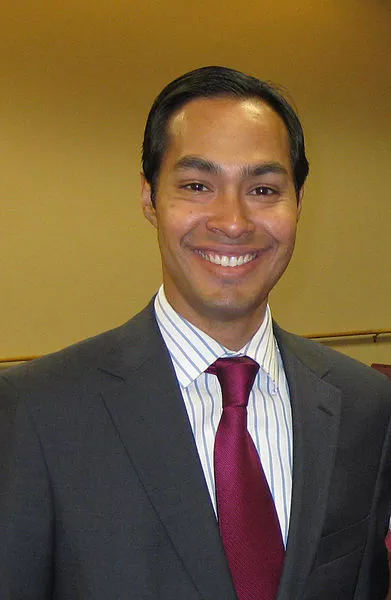 San Antonio Mayor Julián Castro, 37, will be the Latino keynote speaker at the Democratic National Convention.
That might be enough to lure Bill Clinton, though he's been watching his diet lately. The big announcement is that the former president will formally place President Obama's name into nomination on Sept. 5, a sign, as I pointed out in the Washington Post, that both men want to win. Their relationship has been testy at times, but they've made peace since the 2008 primary fight between Obama and Hillary Clinton, who as Secretary of State will be staying away from the partisan Democratic Party's party. A full-throated endorsement by the popular Bill Clinton in his home region will be more than enough to draw a crowd.
The lineup of convention speakers is settling in. Vice President Biden's speech will precede the president's on Sept. 6, the final night of the convention, at Bank of America Stadium. Elizabeth Warren will take time away from campaigning in her tough race against Sen. Scott Brown in Massachusetts to speak in prime time before Clinton. First lady Michelle Obama is scheduled for a Sept. 4 opening night slot to offer, as convention chairman and Los Angeles Mayor Antonio Villaraigosa said in a statement, "unique insights into the president as a husband, father and a leader over the last four years."
That night, San Antonio Mayor Julián Castro will be the first Latino keynote speaker at a Democratic National Convention. The 37-year-old, serving his second term, follows other Texans, including Gov. Ann Richards and former Congresswoman Barbara Jordan, in that role. And his background as the son of a single mother who earned degrees from Stanford and Harvard bears some resemblance to that of the 2004 convention keynote, Barack Obama. Heard of him?

On Tuesday, the Obama campaign launched a smartphone app available for iPhones now and for Android devices soon, to shore up grassroots organizing and provide information on everything from state-by-state voter registration rules to details on the president's plans for health care and the economy.
Still to be announced is information on progress toward the $36.6 million needed for the convention.
Mary C. Curtis, an award-winning Charlotte-based journalist, is a contributor to The Washington Post's "She the People" blog, The Root and theGrio. Her "Keeping It Positive" segment airs Wednesdays at 7:10 a.m. on Fox News Rising Charlotte, and she was national correspondent for Politics Daily. Follow her on Twitter.