As the current Starving Artist Theatre production of The Dumb Waiter amusingly demonstrates, you really don't have to choose among the three possible meanings of playwright Harold Pinter's title. While two hitmen, Gus and Ben, wait in a shabby cellar for their boss to give them details on how they'll knock off their next victim, an unseen person sends down food orders from above via a dumb waiter, recessed in the wall. Sure enough, Gus, the underling, empties his rucksack of the assorted snackfood inside and sends it upstairs in lieu of the actual order.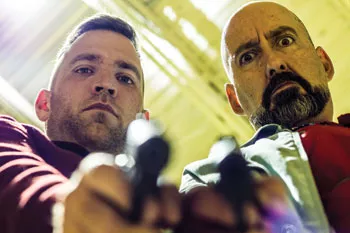 It's all covered: the old-timey upstairs-downstairs machine, stupid waiter Gus, and absurdist descendants of Samuel Beckett's protagonists in
Waiting for Godot
. Directed by Matt Cosper, whose native dramatic language
is
absurdism, the Starving Artist production is perfectly pitched and perfectly paced, sprinkled with hilarity as the plot thickens.
Nathan Rouse and James Dracy beautifully capture the partners' droll dysfunctionality, with liberal applications of Pinter's trademark silences. Rouse as Ben has a quiet competency about him as we first observe him, engrossed in the daily newspaper. Dracy as Gus proves to be far more garrulous after he wakes (he has no other pastimes to occupy himself while he waits). I thought we might have problems in the thickets of Gus's cockney accent, but Dracy's piratical service in Children's Theatre of Charlotte's Treasure Island pays off handsomely here. Dracy makes Gus's vulgarity loud and robust, with just enough obtuseness so that he seems unaware of how repetitious and annoying he is.
We get an inkling of how unpredictable Ben can be by his responses to Gus's stream of questions. Sometimes he answers civilly, less often he gets pissed by his sidekick's persistence, and often he just keeps reading his paper. When he's the dumb one — the one who doesn't speak — Rouse makes Ben very much like the kettle he keeps telling Gus to light, so they can have a glass of tea. Something is simmering inside, but it won't be heard or come into view until he comes explosively to a full boil.
The whole dumb waiter episode is marvelously carried off as both men are thrown into befuddlement by the zany restaurant orders. Panic and incompetence are the traits we most love to see when criminals are depicted onstage and on film, aren't they? Sometimes, I couldn't help suspecting that the fourth meaning of Pinter's title was us, sitting out there quietly, waiting to see how the action would unfold. Clocking in at just over 55 minutes at Duke Energy Theatre, Starving Artist's Dumb Waiter gives us plenty to puzzle out and think about — with more than a couple of laughs coaxing us into letting our guards down.