Shakespeare Carolina seemed to be at their lowest ebb in the last two productions they brought to Spirit Square, 5 by Tenn and the infamous Measure for Measure. After a strategic retreat to their native soil across the border, Shakescar's new production of Bertolt Brecht's Antigone breathes new life into the company's homecoming at Winthrop University's Johnson Hall.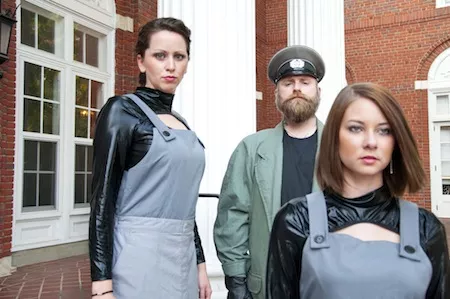 The text, translated from the German by Judith Malina, gives little indication whether we're lingering in the ancient Thebes that Sophocles drew from myth or whether Brecht is drawing our attention to specific modern parallels with the tragedy's antiwar theme. Less than three months ago, we had Matt Cosper's latest draft of
World Without End
, another riff on
Antigone
, where there was no doubt of the modernization or the specific target — a frontal assault on Bush 43 with some satirical acid left over for Bill Clinton.
ShakesCar director Chris O'Neill decides to have it both ways. Citizens of Thebes sport black masks reminiscent of those worn at the ancient ceremonies where Sophocles' play was first performed 2450+ years ago — and gauzy, dingy costumes that are probably closer to the wardrobe of ancient Greeks than most denizens of today's Baghdad. Hooded and leprous, the blind prophet Tiresias also hails from an indefinite era.
O'Neill designed the props and the costumes and, collaborating with Biff Edge, the unit set as well, a wooden scaffolded affair that puts me in mind of the Mother Courage produced at Spoleto. With a trashcan lid among the debris littered across the stage, we're quickly tuned in to modern times, and the helmets worn by soldier messengers, bringing news from battles against Argos, bear an unmistakable resemblance to the gear favored by Darth Vader and Nazi storm troopers.
The headgear is a bit problematical. Masks worn by the chorus make it difficult to decode what the scavenging citizens of Thebes are saying, and those ugly helmets tend to obscure the faces of the army guard, Nathan Kelly Rouse, and the messengers, Zade and Ted Patterson, unless they tip the visors back.
Fortunately, the main antagonists bring a fire and excitement to this picturesque Brecht that has been missing for far too long in ShakesCar presentations. Katie Bearden as Antigone has a valor about her that eclipses that of the soldiers onstage, adding credence to her brave stand against King Kreon when they stand toe-to-toe. With a martyr's questionable zeal, Bearden is every bit as hard-headed and steadfast as her tyrannical uncle. Heavily tattooed, Sean Foley brings a nearly Mongolian fierceness to Kreon, monomaniacal at times, without surrendering his self-control until his heart-rending undoing.
Running time is a mere 79 minutes, so Antigone's fiancé and her sister don't get quite the play they do in Sophocles' tragedy, and Queen Eurydice is eliminated entirely. That's a mixed blessing because, while George Pond might have made a deeper impression as Hamon if he had been given more than one scene, we would have been forced to endure more of the stage apprenticeship of Amy Leigh Thrift as Ismene.
Nearly stealing the show is S. Wilson Lee as Tiresias, staggering onto the scene like a hooded monk and torching the stage with his doomsaying tirade as he upbraids Kreon — a hideous angel of death when he pulls back that hood, and by far the better of O'Neill's Star Wars inspirations. With apt lighting design by Biff Edge and video imagery, filmed by David Hensley and Long Walk Productions, that chimes well with the apocalyptic mood, ShakesCar has turned the corner and made a U-turn toward excellence.