Calendars and fingers aren't strictly necessary for calculating the number of annual editions of Charlotte Squawks that have been presented uptown at various Blumenthal Performing Arts Center venues - including the current production at Booth Playhouse. Eight Misbehavin', the show's subtitle, handles that chore for us and helps describe the topical musical revue's evolution from the Dark Ages of its tender, tenuously naughty beginnings when the satire was qualified with such descriptions as With Luv and Pleads the Fifth. The break with timidity probably occurred with Six Degrees of Desecration when I thought it was still charitable to steer clear of reviewing the production.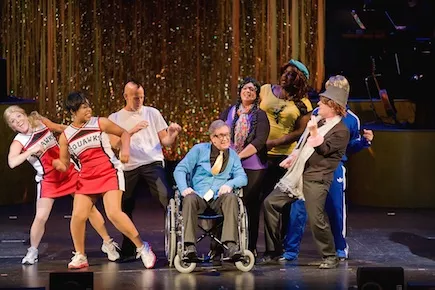 The series had certainly taken a hairpin turn when I checked out Seven Year Bit©# last year, though the euphemistic typography sent me a warning signal. Misbehavin' is the bravest, most challenging, most eclectic Squawks yet, building on Bit©# while borrowing from it. "Greenway," based on Paul Anka's "My Way," "They Will Screw Ya," based on Leonard Cohen's "Halleluja," and "Hey, Big Lender" are effective repeats that have remained relevant, while "We're Chiquita Banana" sounds rushed into service without the benefit of Squawks writer Brian Kahn's top parody form.
On the other hand, "Why Not Wed Gays," based on the Village People's "YMCA," and "Convention," parodying "Tradition" from Fiddler on the Roof, have all the currency and bite you could ask for. "I Will Govern You," a parody of Boyz II Men's "I'll Make Love to You" targets Mayor Pat McCrory's second run at the governor's office — the best of a series of political salvos aimed at Bev Purdue, Mitt Romney, Newt Gingrich, Barack Obama, Jennifer Roberts, and somebody named Harold.
With over 30 songs, plus two "Squawks News" segments, I haven't named half the topics Kahn, emcee Mike Collins, and a talented cast tackle. Yes, it's not likely that anyone in the audience will be as versed as Kahn on all the songs he parodies if he or she has been keeping as abreast of local, statewide, and national politics as he has — with stopovers on the Bobcats, Cam Newton, the Greek Crisis, Facebook, and NBC's Dateline.
There were a couple of technical snafus on the second night of the run, but Collins has the poise to make those part of the fun. Terry Denise Henry, Robbie Jaeger, Susan Roberts Knowlson, Kevin Harris, Maret Seitz, and Patrick Ratchford are among the best musical performers in Charlotte, and with Jeana Neal Borman conducting, every ounce of mirth that can be squeezed from Kahn's parodies, strong or weak, comes across.
Three other elements have elevated Squawks. Collins' stage direction provides a higher level of polish while Kahn's PowerPoint projections add extra punch. Best of all, two of the politicians parodied in the show participate — live or on tape. Mayor McCrory's segments are especially choice nuggets that I look forward to every year, and for Misbehavin', Commissioner Roberts jumped aboard.
On the night I attended, Harold Cogdell was actually in the audience, and Collins went after him with everything he and Kahn had put into the Squawks script. For once, I thought Squawks had crossed the line. So what took them so long?