(To read the Day One Recap, go here. To read the Day Two recap, go here.)
The curtains have closed and the lights have dimmed on another chapter in the saga of Winston-Salem's RiverRun International Film Festival, but before we bid adieu, there are a couple more films to cover and plenty of winners to announce.
Wuthering Heights - Andrea Arnold, director of the art-house hit Fish Tank, here refashions the Emily Bronte chestnut to serve as a treatise on race as well as class. Her Heathcliff is a young black man (played by Solomon Glave and later James Howson) forced to deal with the prejudices of those around him, even as he pursues a tempestuous relationship with the doomed Catherine (Shannon Beer, then Kaya Scodelario). Natalie Portman and Michael Fassbender were initially attached to this production that went through many hands, but once Arnold became its guiding light, she jettisoned all professional actors (Portman and Fassbender were already long gone at that point) and opted to go with newcomers. For the most part, the amateurs hold their own, although the first half of the picture - focusing on the younger versions of the lovers - is more potent and inventive than the second half, which becomes more rigid as it seeks to the follow the dictates of the source material (a problem that Arnold herself admitted during the post-screening Q&A). This won't replace the 1939 Laurence Olivier-Merle Oberon classic as the definitive screen take, but Arnold's atmospheric direction and the stunning camerawork by Robbie Ryan (who's already won several international awards for his lensing here) help counteract against a certain degree of lethargy.
The Eye of the Storm - An adaptation of the novel by Nobel Prize winner Patrick White, this drama (with plenty of comedic overtones) stars Charlotte Rampling as Elizabeth Hunter, an Australian matriarch now confined to her death bed, surrounded by two nurses (Alexandra Schepisi and Maria Theodorakis) and a housekeeper (Helen Morse). Her two children - Basil (Geoffrey Rush), an actor who was knighted by the Brits (before they saw his disastrous King Lear, someone points out), and Dorothy (Judy Davis), whose former marriage to a royal left her the title of Princess and nothing else - have come to visit, and immediately old wounds open up. Through numerous conversations and ample flashbacks, it's clear that Elizabeth is a monstrous figure, and Basil and Dorothy (neither of them angels, either) do their best to contend with her while also plotting to place her in an assisted-living facility. The cast is superb and the direction of Fred Schepisi is straightforward and understated, but like Wuthering Heights, the film never reaches any sort of emotional crescendo as the material warrants. Incidentally, that's Schepisi's daughter Alexandra delivering a fine turn as the scheming nurse Flora.
Filming the sex scene between Alexandra and Geoffrey Rush was just one of the many topics touched on by Mr. Schepisi in the informative Q&A that followed the closing-night screening. In addition, the director of (among other past hits) A Cry in the Dark, Roxanne and HBO's Empire Falls also discussed author Patrick White's high standing in Australia, why it worked out casting a British actress (Rampling) as a prominent Australian character, and his long-standing relationship with Branford Marsalis (who's featured in the film's score by Paul Grabowsky). In person, Mr. Schepisi is a lovely man, and he also took time to pose for a few photos for this blog.
Mr. Schepisi (right) with RiverRun Executive Director Andrew Rodgers
The festival's closing night also saw the announcement of all the winning films and filmmakers. Personally speaking, I was most pleased to see the Best Director for a Documentary Feature award go to Lauren Greenfield, whose The Queen of Versailles was my favorite of the five features and 21 shorts I caught during my time at the fest. I was also delighted to see that my three favorites in the Animated Shorts category - Bottle, Something Left, Something Taken and Luminaris - also coincidentally turned out to be the three receiving critics' awards (albeit in a slightly different order).
The complete scorecard: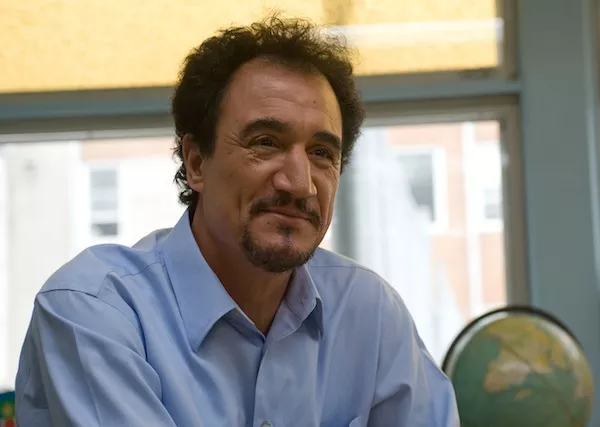 Music Fox Films
Monsieur Lazhar won three awards: Best Actor (Mohamed Fellag, pictured), Best Screenplay, and the Audience Award for Best Narrative Feature
NARRATIVE FEATURE
BEST NARRATIVE FEATURE
Found Memories, directed by Julia Murat

PETER BRUNETTE AWARD FOR BEST DIRECTOR
Julia Murat, Found Memories

BEST ACTOR
Mohamed Fellag, Monsieur Lazhar
HONORABLE MENTION - BEST ACTOR
Anders Danielsen Lie, Oslo, August 31st

BEST ACTRESS
Nadezhda Markina, Elena
HONORABLE MENTION - BEST ACTRESS
Sonia Guedes, Found Memories

BEST CINEMATOGRAPHY
Lucio Bonelli, Found Memories

BEST SCREENPLAY
Philippe Falardeau, Monsieur Lazhar
DOCUMENTARY FEATURE
BEST DOCUMENTARY FEATURE
The Boy Who Was A King, directed by Andrey Paounov

BEST DIRECTOR
Lauren Greenfield, The Queen of Versailles

HUMAN RIGHTS AWARD
Love Free Or Die, directed by Macky Alston

NARRATIVE SHORT
BEST NARRATIVE SHORT
The Trip (A Viagem), directed by Simao Cayatte

HONORABLE MENTION
They Say (Dicen), directed by Alauda Ruiz de Azúa

DOCUMENTARY SHORT
BEST DOCUMENTARY SHORT
Cutting Loose, directed by Finlay Pretsell and Adrian McDowall
ANIMATED SHORT
BEST ANIMATED SHORT
Something Left, Something Taken, directed by Ru Kuwahata and Max Porter

HONORABLE MENTION
Luminaris, directed by Juan Pablo Zaramella
HONORABLE MENTION
Bottle, directed by Kirsten Lepore
STUDENT SHORT
BEST STUDENT NARRATIVE SHORT
Against the Sea (Contra El Mar), directed by Richard Parkin

BEST STUDENT DOCUMENTARY SHORT
Where We Live, directed by Fady Hadid

BEST STUDENT ANIMATED SHORT
The Reality Clock, directed by Amanda Tasse
HONORABLE MENTION - BEST STUDENT ANIMATED SHORT
Bottle, directed by Kirsten Lepore
AUDIENCE AWARDS
KILPATRICK TOWNSEND & STOCKTON LLP AWARD FOR BEST NARRATIVE FEATURE
Monsieur Lazhar, directed by Philippe Falardeau
KILPATRICK TOWNSEND & STOCKTON LLP AWARD FOR BEST DOCUMENTARY FEATURE
Chasing Ice, directed by Jeff Orlowski
ALTERED STATES AWARD FOR BEST AMERICAN INDIE
Small, Beautifully Moving Parts, directed by Annie Howell and Lisa Robinson