Winston-Salem may not have camels, but at present, it's certainly not lacking in films. Lots of films. Lots of good films.
The 14th Annual RiverRun International Film Festival, which kicked off April 13, has entered its home stretch, with the grand finale arriving April 22. As was the case last year, I've been graciously invited to attend the fest by executive director Andrew Rodgers and his team. In 2011, it was to serve as a judge for the Documentary Shorts category; this year, it's strictly in reporter/critic mode, hooking myself up to a coffee IV drip in order to see as many films as possible.
Arriving Thursday night, my wife Natalie and I were greeted by an old friend and colleague: Sam Boykin, former staff writer for Creative Loafing. OK, Sam wasn't actually here in Winston-Salem in person, but his was the first mug I saw in the Wingate Hotel in-room magazine.
And now, on with the show.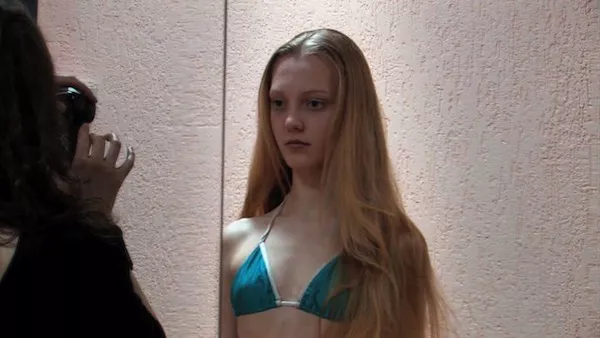 KinoSmith
Nadya, the unfortunate star of Girl Model
Girl Model - This brutally direct documentary inspires anger and anguish in equal measure, as it begins with an American scout named Ashley Arbaugh, herself a former model, looking at dozens of pubescent girls in a Siberian warehouse in order to determine which one would be perfect to work as a model in the Japanese market (which, we're told, "likes the girls young"). She settles on Nadya, a 13-year-old innocent who, like many of these wannabe models, is taking this route as a way to financially aid her poverty-stricken parents. Nadya, who speaks neither English nor Japanese, suddenly finds herself in Tokyo all alone save for the documentary team (directors David Redmon and Ashley Sabin), who are forced to step into their own film in order to help the poor girl make it to her cubicle-sized apartment. Nadya has been promised at least two jobs plus an additional $8,000, but as she and her roommate (another Russian child) soon discover, the assignments rarely come, and when they do, the money goes straight into the hands of the sleazeballs managing them. That would be Tigran, who daftly views himself as a savior of these girls, and a scumbag who goes by the name Messiah. Girl Model is heartbreaking whenever it focuses on Nadya and infuriating when it centers on Ashley, who stays in an industry she professes to hate, enjoying the perks of her job (Fashion Week in Paris!) while admitting that her discs of these teen models frequently end up in the hands of folks eager to turn these girls (often successfully so) into underage prostitutes. This is the sort of film that should be mandatory viewing for all governments that have the power to combat such soul-shredding evil.
Documentary Shorts 2 - The conflicting Girl Model screening prevented me from seeing Documentary Shorts 1, but no matter: The six titles presented in this package left me satisfied. Subjects include Mexican immigrants who work as window washers on impossibly tall skyscrapers (Paraiso), a hairdressing competition that takes place each year in Scotland's prison system (Cutting Loose), a Christian teacher who makes ice sculptures in his spare time (Full-Time Ministry), and the struggles of an Iraqi refugee family (Where We Live).
Yet landing in my runner-up position for Best in Show is Sand, director Cari Ann Shim Sham's lovely 10-minute short which looks at the beautiful craft of sand dancing and follows actor Darrow Igus (The Fog, the late-night comedy show Fridays) as he and his grown son Kenji engage in some fancy footwork. (Trivia aside: You can also check out 1935's wonderful Top Hat to see Fred Astaire doing his own fantastic sand dancing.)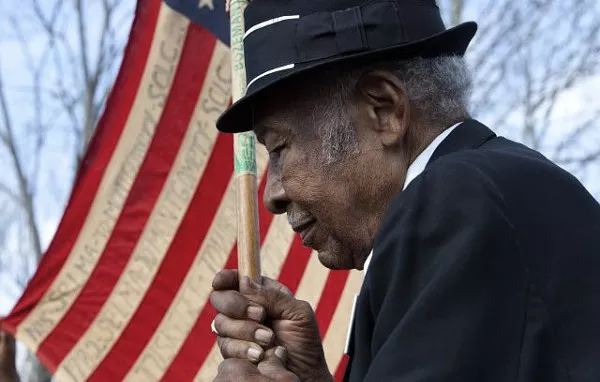 Chicken and Egg Pictures
The Barber of Birmingham: Foot Soldier of the Civil Rights Movement
The best of the documentary sextet, though, is The Barber of Birmingham: Foot Soldier of the Civil Rights Movement. An Academy Award nominee this year for Best Documentary Short, this important and moving film focuses on James Armstrong, a civil rights veteran who, at the age of 85, beamed with pride as this nation elected its first African-American president. A bona fide hero, Armstrong was the one who carried the U.S. flag during that historic Selma-to-Montgomery voting-rights march in 1965, refusing to put it down even as racist law officers beat and gassed the participants. The Barber of Birmingham recounts not only this and other historical events of note but, as the title hints, also focuses on the quaint barbershop where Mr. Armstrong plied his trade (sadly, he passed away in 2009).
In attendance at the screening were Shirley Gavin Floyd of the Civil Rights Activist Committee and her fellow "foot soldier" Paulette Roby. The two held an informative Q&A following the screening, discussing Mr. Armstrong and sharing interesting tidbits about the film (including the satisfying revelation that, because of the Oscar nomination, the city of Birmingham is now considering turning the barbershop into a museum). Floyd and Roby were just as charming on a one-to-one - or, rather, two-to-two - basis, chatting with my wife and me in the theater lobby after the screening and later at a fest-sponsored VIP buffet. It was at the latter function where Roby shared with us her excitement at having attended this year's Academy Awards ceremony in support of the film. And her favorite of all the movie stars present? Why, George Clooney, of course.
Coming up: The Queen of Versailles, God Bless America, and more.