A coalition of about 60 local and national organizations that represents workers, students, immigrants, unions and homeowners announced about 10,000 of its members will demonstrate at the Democratic National Convention. There's just one problem: The city hasn't given it permission.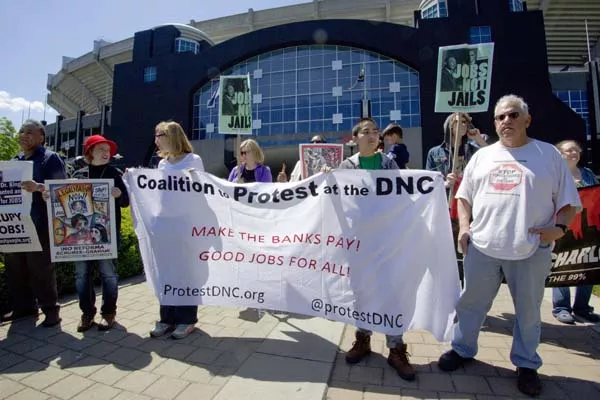 About 12 members of the Coalition to Protest at the DNC announced their intent to bring the noise Sunday, Sept. 2 - regardless of whether the city permits them to. About 10,000 members, the Coalition estimates, will protest against the dangerous foreclosure practices of big banks, including Charlotte's brightest star, Bank of America Corp.; North Carolina's treatment of unions; and environmental and immigrant issues.
But it better, said Elena Everett, a member of Occupy Durham and co-chairwoman of the Coalition to Protest at the DNC's legal and permits unit. Otherwise, it's taking the city to court.
Everett and about a dozen coalition members, some of whom came from as far away as Wisconsin, convened mostly for reporters in front of the Bank of America Stadium in Uptown Friday afternoon for its announcement.
The city of Charlotte told the group it would decide in July how and when it would operate a lottery system to give parade permits, which the group plans to use to peacefully protest, Everett said. That would leave the coalition with about six weeks - a timeline she called unacceptable - to organize the logistics of its "constitutional right." Denver started its parade-permit lottery in March the year of its convention.
The city would also decide by July whether to give protesters access to city parks, Marshall and Independence being the group's top picks, even though all have been booked for the convention for months. In the mean time, she added, Charlotte has moved forward with ordinances that further block access to Uptown and surrounding areas. Group members made it very clear they would protest - whether they're legally allowed to or not.
The coalition is hosting an informal conference tomorrow at the Charlotte School of Law from 9 a.m. to 5 p.m. to discuss its plans. Go here for more information.