Both the Democratic National Convention and host committees are establishing the credibility of the Carolinas with one activity that incorporates the culture and another that aims to "leave behind" a mark. This week, a NASCAR legend reached out to potential convention donors, and the DNCC helped kick off a playground project at Levine Children's Hospital.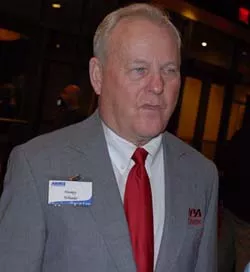 Ted Van Pelt/Creative Commons
On Thursday, the Charlotte in 2012 convention host committee announced a fundraising campaign that has enlisted NASCAR's H.A. "Humpy" Wheeler. He's sending supporters an email asking for donations of $5 or more to become a sponsor of the Charlotte in 2012 "Powered by the American People" stock car. It will get your name on a stock car featured at pre-convention events. In case anyone's not quite sure who Wheeler is, his email also puts a plug for the "free, family-friendly Labor Day celebration at the place I spent the majority of my career at the Charlotte Motor Speedway." The convention's official stock car is the latest lure to www.charlottein2012.com.
Cameron Morin stole the spotlight at Wednesday's launch of the renovation of a rooftop children's playground at Levine Children's Hospital on an appropriately sunny day. Officials with the DNCC and its partners - credit unions in the Carolinas and nationwide and the National Journal Group - were no match for the 3-and-a-half-year-old, who was treated for bacterial meningitis at the hospital when she was just 58 days old and is doing fine now. (Her mother Naomi Morin, of the hospital's Family Advisory Council, called her daughter's treatment and recovery "a blessing.") Cameron ceremoniously sprinkled water on flowers that will eventually be part of an upgrade for the 12th-floor space, which will also include a touch-activated light and color "bubble wall," a deck and pavilion, outdoor play equipment and environmental improvements.
Martha Whitecotton, hospital president, said the playground will give parents and children the chance "to return to something that is normal" during the stress of a hospital stay.
The involvement of the Credit Union National Association (CUNA) and National Journal Group is not limited to city or party. They are also sponsoring a playground construction project at All Children's Hospital in Tampa-St. Petersburg, Fla., site of the Republican National Convention.
The Charlotte project's estimated $300,000 cost will be raised by credit unions nationwide. Maurice Smith, local government federal credit union president and CEO, said on Wednesday that the "leave behind" projects will make a difference "after the balloons have dropped and the speeches ended." Under the Credit Unions for Kids brand, the credit unions also raise funds for Children's Miracle Network Hospitals. Smith said creating "a healing place, a beautiful place" for children and their families was "a labor of love."
The Carolinas Credit Union Foundation, representing credit unions belonging to the North Carolina Credit Union League and the South Carolina Credit Union League, are heading up fundraising for Levine Children's Hospital. Playground construction - with volunteer help from credit unions, DNCC staffers and National Journal Group - is expected to end in time for an opening convention week, Sept. 4 through 6.
National Journal Group editor-in-chief Ron Fournier represented media involvement at Wednesday's event, also attended by Mayor Anthony Foxx and DNCC CEO Steve Kerrigan.
Mary C. Curtis, an award-winning Charlotte, N.C.-based journalist, is a contributor to The Washington Post's "She the People" blog, The Root, NPR and the Nieman Watchdog blog. Her "Keeping It Positive" segment airs Wednesdays at 7:10 a.m. on Fox News Rising Charlotte, and she was national correspondent for Politics Daily. Follow her on Twitter.