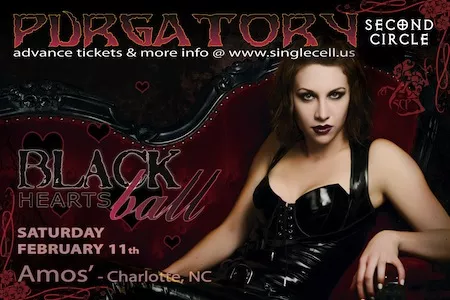 It's time for another one of Single Cell Productions' BDSM-centric Purgatory parties. Themed Black Hearts Ball, its set to feature the following:
•Â Live stage shows by Single Cell fetish artists, Djinn the NyteChyld, Ophelia Anu, Little Devi and Vivica Hallow.
•Â Aerial silk performance by Miss Marilyn Chen of Liquid Sky and interactive rope suspension by Toby of Black Garden.
• Electronic dance music by DJ Harkonnen, Architech and Mixtress Krikett.
•Â VIP fetish playground with Djinn the NyteChyld, Sheppard and Dr. Spankenstein.
For more on Single Cell Productions, visit http://singlecell.us/. 25. Saturday, Feb. 11. 8 p.m. Amos' Southend, 1423 S. Tryon St.