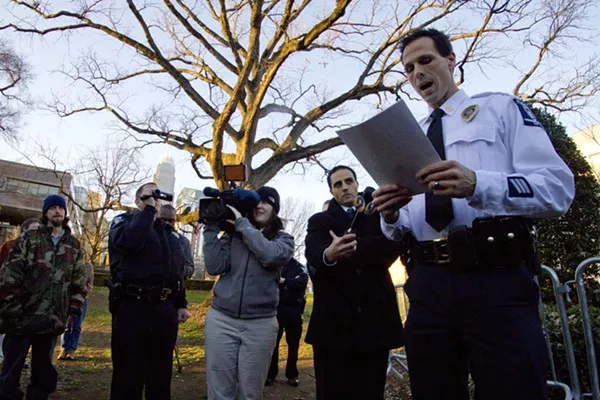 Capt. Estes of the CMPD reads the new city ordinance to members of Occupy Charlotte
Creative Loafing
reporter
Rhiannon Fionn
is on the ground at Old City Hall tonight talking to members of Occupy Charlotte and Charlotte-Mecklenburg police about the ramifications of Monday's eviction. That's when police plan to go in and enforce a new city ordinance barring camping on the city hall grounds.
Some observers fear there will be a confrontation, although others say that fear is overstated. The one thing that's certain right now is the uncertainty surrounding what can stay and what can go; what kind of tent is considered a "living accommodation" and what kind isn't. When CMPD Capt. Jeff Estes showed up at around 5 p.m. today to read the new ordinance to the group, the occupiers "inundated" him with questions, said photographer Grant Baldwin.
CL reporter Fionn said the mood remained generally calm, and that the group had undergone rigorous civil disobedience training earlier in the day. "They made it clear to the police that they have questions about the ordinance and the police also admitted that they're not clear about it either" said Fionn. "In fact, the police advised the protesters to consult their attorneys."
Fionn and Baldwin will remain on the scene through the night, as rumors have spread that some kind of police action may happen between 4 a.m. and 6 a.m. Monday. That has not been confirmed by the police or the city. Also present on the scene is Isaac Sturgill, director of the Charlotte School of Law chapter of the National Lawyers Guild, who told Fionn that the Guild "wants the police and city to know they're watching." Sturgill wrote a "City Forum" column on the topic for CL in December.
At around 9 p.m., the Charlotte occupiers held a march to show solidarity with their counterparts from Occupy Oakland, where demonstrators broke into the city hall and damaged property after police arrested hundreds of protesters. Catch up with that story at The Christian Science Monitor.