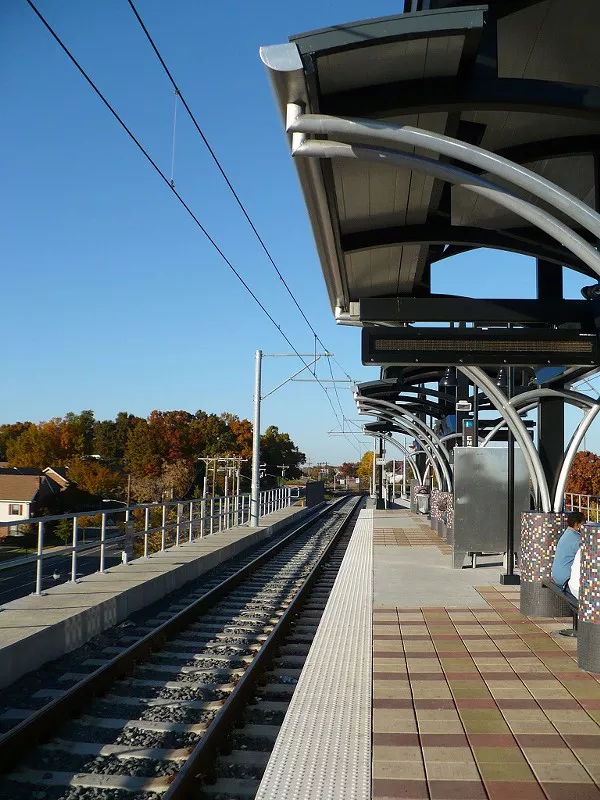 Reconnecting America
Archdale Light Rail Station, Nov. 2008
Oooo. Did you hear? The Charlotte Area Transit System is getting some federal money ($18 million, according to The O) to add a car to Lynx trains, adjust the pit stops for said longer trains and even, wait for it ... lengthen the stretch of the tracks so the train can reach other areas of the city.
Wowee. This is so exciting! Soon, Charlotte will be like a real city.
Real cities have good public transportation. By "good," I mean it reaches the far corners of the city, and often beyond. In real cities, people can park their cars — if they even own one — because public transportation can take them where they need to go, efficiently. At train stations, you can often find car-sharing programs and rental bikes.
But not in Charlotte. Oh, no. We fight over every inch of track, don't we? Public transportation, after all, is for the plebes, and we're aristocrats in our minds, millionaires in waiting if we aren't already flush with cash.
This influx of federal money, as exciting as it sounds, is to make adjustments to Lynx that were axed from previous plans so the city could claim that it saved some money.
Saved money? Bull shit. Now the city has to go back and upgrade the wee bitty bit of light rail track it has, serving a small portion of the city, before it can expand the train's services. But because the city tried at all, we pat our leaders on the back and puff our chests, as if we've done something impressive, crowing about how Charlotte is tops.
If you think Charlotte is a so-called world-class city, I highly recommend you travel to another, larger city. Charlotte's wet dreams are about having the clout to match its swagger. An excellent public transit system would help make those dreams a reality.
Won't all of the people traveling to Charlotte next year for the DNC be surprised to learn that getting around Crown Town isn't easy? I bet they will. Ask some of them when they get here what a world-class city is like. They'll tell you about a place that's not here.
Here's more from The Observer on the Lynx upgrade:

CATS hopes to have the improvements finished by mid-decade, about two years before a planned nine-mile extension of the Lynx Blue Line is scheduled to open in 2017.

The original plan for the light-rail line last decade called for three-car trains. But in an effort to save money, CATS reduced the scope of the project and all stations were only built to handle two-car trains.

The rail line carries about 15,000 passengers a day on the average weekday. The opening projections in 2007 called for 9,100 passengers a day, with that growing to 18,000 a day by 2030.

The U.S. Department of Transportation grant won't be enough to expand all train platforms. CATS plans to start with uptown stations, as well as the station at the end of the line, at South Boulevard and Interstate 485.

CATS is also working on the roughly $900 million extension of the light-rail line, to UNC Charlotte.

Read the rest of the article, by Steve Harrison, here.
Further reading: Imagining a City Without Its Public Transportation — The Atlantic