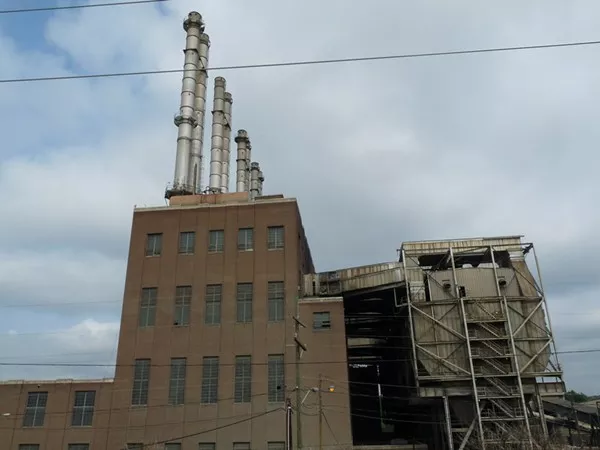 Duke Energy's 82-year-old Riverbend coal plant
Duke Energy talks about closing coal plants a lot. For example, the 82-year-old Riverbend plant that's about a dozen miles from Uptown, the one with the two unlined, high-hazard coal ash ponds that drain into Charlotte's main drinking water source. They've said that they'll close that plant more than once. At one point, they said they'd close it this year; now they're talking 2015, or 2018. You know, sometime in the future — just not now.
Note: The life expectancy of modern coal plants is around 40 years. Riverbend opened on the original Black Friday, Oct. 29, 1929; it's far from modern and, in fact, lacks many of the environmental controls found on newer plants.
So when I saw the headline about Duke Energy in talks with environmental groups — trying to garner their support for their merger with Progress Energy by closing coal plants — my mind immediately went to Riverbend. It's one of the oldest plants in the country, and one of the most visible. It's unusual to be able to drive up to a coal plant and see the mountain of coal that happens to come directly from the Appalachian Mountains; usually the coal is better hidden than that.
Once I started the article, though, I realized the deal the energy giant struck is a deal in South Carolina, not here. Shocker.
Correction: The Observer is reporting that Riverbend will be closed as part of the deal, though they're also reporting that closing Riverbend in 2015 isn't new news. Company reps have told me the closure could happen as late as 2018 but that the plant would probably remain operational for other purposes, like for burning natural gas or "renewable energy" in the way of trees.
From Business Week:


The companies already had publicly announced they would reduce the amount of power produced by coal-fired plants by 3,000 megawatts, but the agreement now include an enforceable schedule, said Greg Andeck with the Environmental Defense Fund.

"We see this almost as an insurance policy. Even though they said they will do this, companies can change their minds," Andeck said.

Andeck's group reached the agreement with the company along with the Southern Environmental Law Center, the Coastal Conservation League and the Southern Alliance for Clean Energy. All four groups had asked to intervene in discussions of the merger this week by the South Carolina Public Service Commission.

Read the rest of this Business Week article, by Jeffrey Collins, here.
Bully for South Carolina air breathers and water drinkers.
Meanwhile, the neighborhood across the street from Riverbend is still being covered in fine, black dust, one to three pounds of arsenic is entering Mountain Island Lake — Charlotte's main drinking water source — each day where there are signs to warn about consuming the fish, the groundwater near the coal ash ponds remains questionable and Riverbend will be puffing black smoke, working its way through that huge mound of Appalachian coal, as we crank up the heaters this winter.
But, hey, never forget that Duke Energy loves Charlotte an is a caring neighbor. Corporations can care, right?