Discovery Place's Mummies of the World — a traveling exhibition comprised of 150 specimens (human and animal mummies and related artifacts), from across the globe — isn't meant to be creepy. Today's unveiling (for media only; it opens to the public tomorrow), gave us a glimpse into the educational side of mummies. Who knew? And, we thought, they were all wrapped up.
Visitors can learn about the processes of mummification (from ancient ritualized procedures to all-natural occurrences), as well as how scientific methods have determined origins and causes of death of select mummies. Multimedia, hands-on interactive stations and 3D animation enhances the learning experience.
The exhibition was conceived by the Germany Mummy Project, led and curated by the Reiss-Engelhorn Museums in Mannheim, Germany - which worked closely with 21 other museums around the world to gather and collect the fascinating pieces showcased.
We've put together a list of our favorite corpses below:
• "Detmold Child" - This infant Peruvian mummy dates between 4504-4457 BC, meaning its about 6,500 years old — that's 3,000 years before King Tut. Notice it's hair is still intact and its body still resembles that of a living baby (minus the weird coloration and shriveled skin, of course). Don't worry, we declined from singing it a lullaby.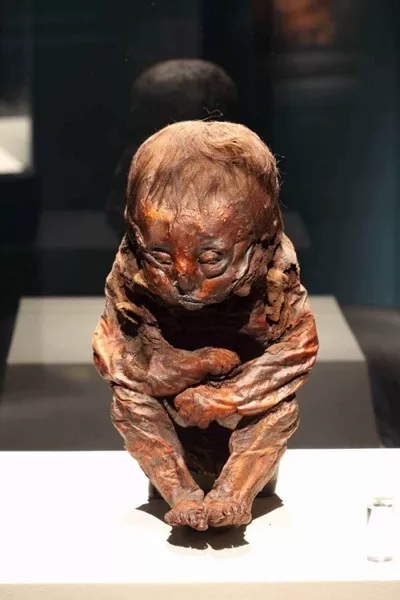 • Golden jackal - Discovered in a cave in Jordan, this poor creature wandered into a lava tube tunnel that became obstructed with rocks, leaving it trapped ... and dead. Since the environment was warm and dry and no other animals could get to its body, its preservation was first-class.
• "The Howler Monkey," - This mummy, wearing a feathered skirt and headdress, was found mounted on a pole in Argentina's Gran Chaco. One has to wonder about who placed it there. Boy, did they have time for some monkeying around.

• The Orlovitis Family - Three mummies — mother, father and child — were found in a hidden underground crypt in Vac, Hungry in 1994. They date back to the 18th century and can be seen wearing clothes from that era.
• Adult Egyptian man - Dating back to 408 BC, this mans fingernails remain a mystery to scientists, who can't determine if the red coloration is from disease or cosmetic purposes. We're rooting for the latter!
• Tattoo woman - This well-preserved lady, still bearing a full head of hair and tattoos around her mouth and breasts, was discovered in the desert of Peru.

All-in-all, the exhibition makes for an interesting introductory into the world of mummies. Sidenote - It's still a little creepy though.
Like past traveling exhibits (such as Dead Sea Scrolls, Body Worlds and A Day in Pompeii) at Discovery Place, Mummies of the World has special ticketing and timed entries. Nov. 11-April 8, 2012. $18-$24. Discovery Place, 301 N. Tryon St. 704-372-6261. www.discoveryplace.org.