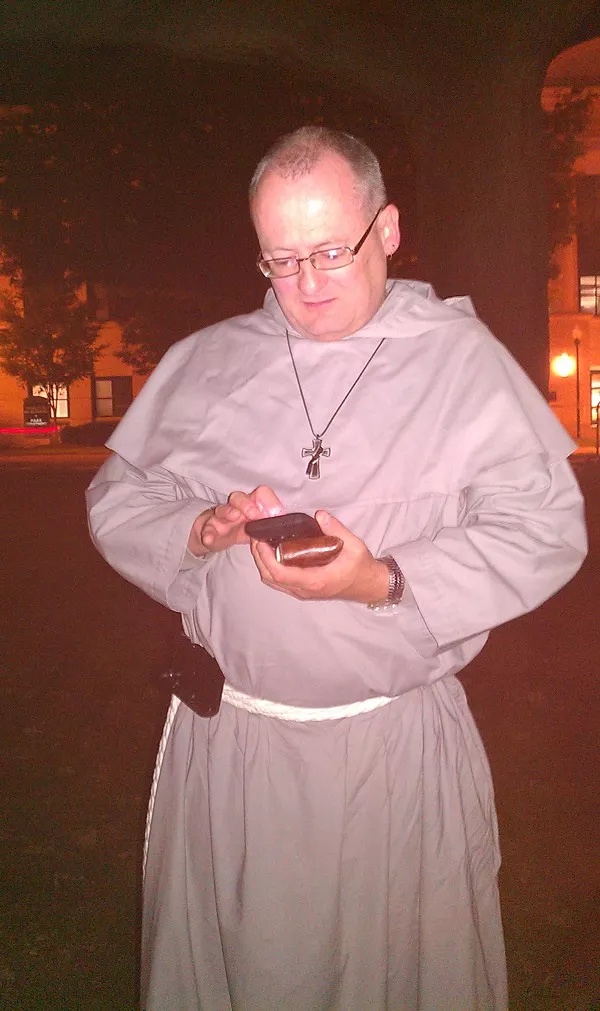 Deacon Don Pratt checking in at Occupy Charlotte on FourSquare
As promised in an earlier post, CL will be bringing you over the next couple of weeks voices from the occupation of Charlotte — individual participants, in their own words, talking about why they joined the local Occupy movement.
Late Saturday night, the first of the occupation, Deacon Don Pratt, of the United American Catholic Church's Order of Sts. Francis and Clare, sent me a blind message on Twitter asking if people were really still occupying Charlotte. After I responded in the affirmative, he came to visit with the occupiers. And he's visited every night since, usually with donations of some sort in hand.
"I'm here because there's an injustice," he said. "There is something very wrong. There's folks that use the name of Jesus in a way that makes Jesus a mascot, and it's clear that they haven't read the Gospels and it's clear that they haven't read the Sermon on the Mount. Or, perhaps they did read it but thought Jesus was kidding."
Listen to Deacon Don, in his own words:
Further reading:
24 Hours with Occupy Charlotte
Occupy Charlotte: Working Out the Glitches
CMPD holds Occupy Charlotte press conference
Listen to voices from Wednesday's #OccupyUNCC
Who are the 99 percent?
Oct. 1: The birth of Occupy Charlotte