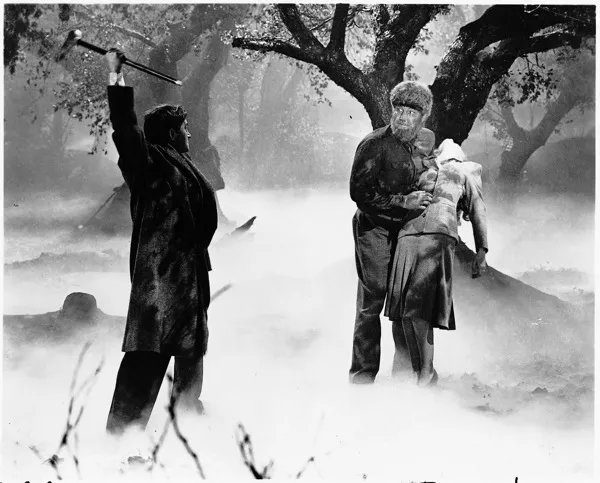 Claude Rains, Lon Chaney Jr. and Evelyn Ankers in The Wolf Man
By Matt Brunson
THE WOLF MAN (1941)
****
DIRECTED BY George Waggner
STARS Lon Chaney Jr., Claude Rains
"Even a man who is pure in heart and says his prayers by night, may become a wolf when the wolfbane blooms and the autumn moon is bright."
For approximately a quarter-century, Universal Pictures was responsible for producing the lion's share of the classic monster movies, atmospheric horror yarns starring such genre superstars as Lon Chaney, Boris Karloff and Bela Lugosi. Yet even with a canon that includes the definitive versions of (among others) Frankenstein, Dracula and The Phantom of the Opera, The Wolf Man (1941) has always remained my favorite of the studios' prolific output.
Lon Chaney Jr. stars as Lawrence Talbot, who returns to the Welsh estate of his father (Claude Rains) after having spent the past 18 years in America. While wooing the local beauty (Evelyn Ankers) one evening, he gets bitten by a werewolf and eventually succumbs to the curse himself.
Like most of the Universal crop, this intelligent and sophisticated picture unfortunately sports a brief running time (70 minutes), but the screenplay by Curt Siodmak manages to pack the proceedings with all manner of intriguing developments, including discussions on the duality of man as well as the place of superstition in a God-fearing world. Jack Pierce's makeup design is superb, and the strong cast also includes Ralph Bellamy as the local constable, Lugosi as a doomed fortune teller, and Maria Ouspenskaya as the gypsy woman who attempts to help Larry.
(The Wolf Man will be screened at 7:30 p.m. Monday, Oct. 3, at the Neighborhood Theatre, 511 East 36th St. The movie is being shown as part of the Bad Moon Rising series presented by The Light Factory, The Neighborhood Theatre, Actor's Theatre, and Visart Video. Doors open at 7 p.m. Admission is free. Details here.)