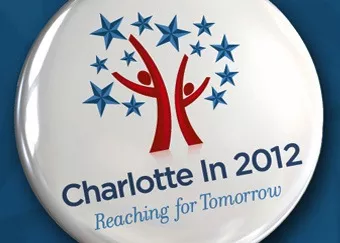 Was it only six months ago that Charlotte was celebrating its besting of four other finalist cities to be named the site of the 2012 Democratic National Convention? With a little more than a year to go, a few grumbles are intruding on the party mood, but for now, organizers say everything is progressing nicely.
At a meeting organized by the Charlotte Chamber in June, local and regional businesses asked for assurances they would be able to share in opportunities the convention would bring. This week, Democratic National Convention Committee CEO Steve Kerrigan said: "The DNCC is committed to ensuring that businesses directly and indirectly involved with the convention reflect the diversity of the city. In addition to a robust outreach effort, the Host Committee will soon publish an online vendor directory of local businesses so organizations hosting events around the convention can search for local goods and services that fit their needs. It will be a tool that helps outside groups meet and maintain the same standards of diversity and inclusion that we have established at the DNCC."
At the same time, a group of black businesses has formed the Carolina Regional Minority Partnership Coalition (CRMPC) "to ensure that minority business owners are able to equally participate with the 2012 DNC Convention and have timely access to information concerning the 2012 DNC Convention." The group's chair and spokesperson is Charlotte attorney James Ferguson II.
And in a move that reflects the partisan prism through which any politically related move is increasingly being judged, the conservative National Review online has tweaked the city with the headline "The DNC War on Public Transportation." The move reflects talk — very much in its early stages — that the Uptown bus station may have to be moved as a security precaution during the convention just across the street.
Six months in, Kerrigan said everything is on track. "The DNCC has moved into office space Uptown and has begun setting up our operation … reaching out to counterparts in the city, and starting the planning necessary to put on the Democratic Convention," he said. "We will continue to grow in stages as we approach the convention."
Still, Charlotte and its players are realizing that the euphoria of capturing such a high-profile event can calm when met with the realities of what's at stake.
Mary C. Curtis, an award-winning Charlotte, N.C.-based journalist, is a contributor to The Root, NPR, Creative Loafing and the Nieman Watchdog blog. Her "Keeping It Positive" segment airs Wednesdays at 7:10 on TV's Fox News Rising Charlotte, and she was national correspondent for Politics Daily. Follow her on Twitter. http://twitter.com/mcurtisnc3.